Bombshells!
If you hang out here at SSTOL very often, you've probably heard me mention that I grew up in a military family. My father served 20 years in the U.S. Air Force, of which I was around for the last 15. Although my dad's work had nothing to do with aviation — he was a carpenter by trade, and later, a building inspector — in that environment, I couldn't help but become interested in military aircraft, and the lore and memorabilia surrounding them.
That little history lesson helps explain my boyhood fascination with
nose art
.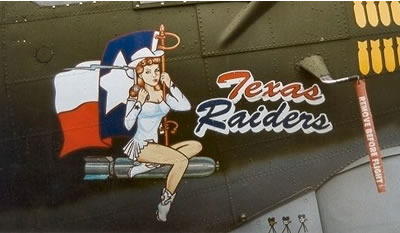 For those of you unfamiliar with this phenomenon, please be assured that nose art has nothing to do with human noses, nor any art created using or appliedthereto. Nose art refers to decorative, often fanciful designs — squadron insignia, logos, cartoon characters, pinup girls, sometimes combinations of two or more of these elements — painted on the fuselages of military aircraft. The term "nose art" derives from the fact that these designs were usually affixed to the forward part (that is, the nose) of the plane.
Although the earliest examples are as old as military planes themselves, nose art became ubiquitous in the U.S. Army Air Forces during World War II, and the U.S. Air Force (the separate service created from the USAAF in 1947) during the Korean conflict. In reality, the origins of nose art can be traced to the elaborate figureheads that adorned sailing ships in ancient times.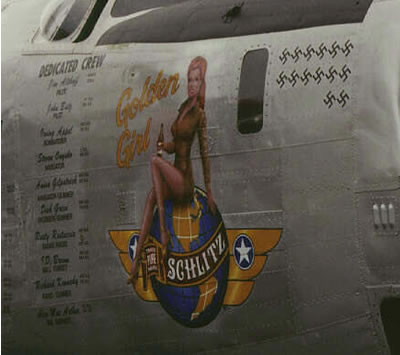 A couple of years ago, while browsing a few Web sites displaying photos of nose art, I had a brainstorm: Wouldn't it be cool if someone created a gallery of nose art-style pinups featuring comic book superheroines from the 1940s? Given my twin affections for nose art and characters from the Golden Age of comics, it seemed as though I might be just the man to spearhead such a project. I patted myself on my metaphorical back for dreaming up this brilliant concept.
Then I more or less forgot about it.
Until a few months ago, when the subject arose during an e-mail exchange with my good friend and fellow comic art collector,
Damon Owens
. Damon, who shares my enthusiasm for the neglected heroes and heroines of comics' past — his
incredible collection of commissioned art
contains countless homages to the Golden Age — thought the nose art theme had genuine merit. Our discussion reminded me of how excited I had been about the concept when first I thought of it.
So, I began considering artists I might enlist (no pun intended) for the project, which I nicknamed
"Bombshells!"
As fate would have it, as I was pondering, I received an e-mail from Dan Veesenmeyer, a talented "good girl" artist with a retro feel. I pitched the concept to Dan, we kicked around a few ideas, and Dan chose four Golden Age heroines for his initial creations.
Bob Almond
— known in Comic Art Friday circles as the man who puts the "King" in "inking" — readily agreed to embellish Dan's pencil drawings.
Thus, the first
Bombshells!
were born.
And what better way to kick off the
Bombshells!
theme than with that symbol of all that's good and female about these United States,
Miss America
?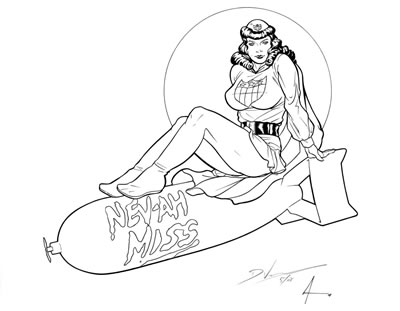 Miss America — not to be confused with the beauty pageant of the same name, although Miss A. could certainly have competed — arrived on the scene in
Marvel Mystery Comics
#49, in late 1943.
Madeline Joyce acquired the powers of flight and superhuman strength through one of those bizarre pseudo-scientific mishaps favored by Golden Age comics writers — she was struck by lightning. What with a war on and all, Madeline donned a red costume with a star-spangled shield on the chest to become Miss America. She appeared steadily in both
Marvel Mystery
and her own eponymous series until 1948, by which time the initial excitement over superheroes had run its course.
Miss A. also served time as a founding member of the
All-Winners Squad
, Timely Comics' (which morphed into Marvel Comics by the early 1960s) first attempt at a superhero team.
Our second Bombshell! features one of the more cleverly named heroines of the Golden Age,
Liberty Belle
.
Liberty Belle — in civilian life, Elizabeth "Libby" Chambers — debuted in
Boy Commandos
#1 (cover date, Winter 1943). Her powers, which included great strength, speed, and stamina, derived — in true Golden Age fashion — from a mystical connection with the actual Liberty Bell. Whenever that venerable American icon is struck, Libby receives a rush of adrenaline that fuels her powers. (As you might suppose, this necessitated Libby hiring an operative in Philadelphia who could tap the bell whenever she needed to leap into action — presumably, without said operative being arrested for mishandling a historical landmark.)
In the modern era, Libby's daughter Jesse wears her mother's former costume and code name (after a few years of operating under the handle Jesse Quick), and has inherited her mom's powers — which she can exercise without needing a recharge from the grand old gong.
We'll look at a couple more
Bombshells!
next week.
And that's your Comic Art Friday.
Labels: Comic Art Friday, Random Acts of Patriotism, Reminiscing