Grand salami time!
On this date in 1961 — a year with special significance for me, given that I spent the majority of it bouncing about in a pool of amniotic fluid — San Francisco native
"Diamond Jim" Gentile
of the Baltimore Orioles became the first player in major league baseball to hit grand slams in consecutive innings. Gentile smacked a total of five bases-loaded round-trippers in that storied season — during which Roger Maris also broke Babe Ruth's previously unassailable single-season home run mark — setting an American League record that held up for 26 years.
Speaking of grand slams, feast your baby [
insert appropriate eye color here
]s on this, the latest addition to my
Common Elements comic art commission series
.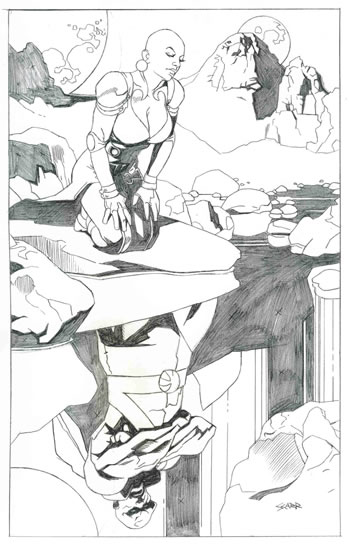 Common Elements commissions are like Forrest Gump's mom's box of chocolates:
You never know what you're gonna get.
Often, the artist simply draws his or her best representation of the two characters I've assigned. That's an excellent outcome in itself. On other occasions, the artist will go beyond the characters themselves, and create a unique milieu in which to set the figures. That, of course, is even better.
Every now and then, an artist will push the concept's envelope and come up with a scenario that I never would have anticipated, much less thought of myself. Steve Carr (best known for his early '90s run on Marvel's
Savage Sword of Conan
) does that here.
In the immortal words of
Dave Niehaus
, the voice of the Seattle Mariners,
"Get out the mustard and rye bread, Grandma... it's grand salami time!"
Steve's cleverly conceived, magnificently rendered tableux features sometime-Avenger, sometime-Defender
Moondragon
gazing into a reflecting pool that reveals
J'onn J'onzz, the Martian Manhunter
of Justice League fame. Or is it J'onn gazing, and Moondragon the reflection?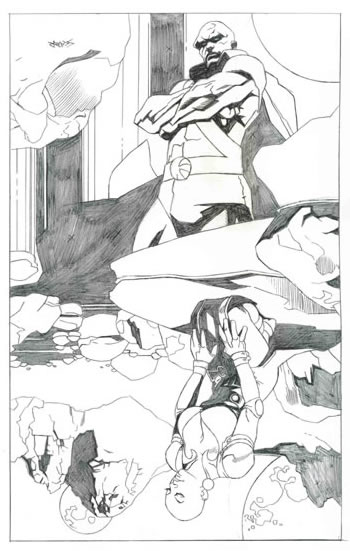 Every picture tells a story, but this one suggests an entire miniseries.
If you look closely, you'll see that Steve notated the black areas (with tiny x's) for the piece's eventual embellisher — legendary inker Joe Rubinstein, who generously made the connection between Mr. Carr and me. Joe is currently working on another of my Common Elements commissions — just wait until you see
that
beauty — and will (I hope) tackle Steve's astonishing creation sometime later this year.
About the two "smooth operators" in Steve's drawing...
Moondragon
— in civilian life Heather Douglas, daughter of the man who was later transmogrified into
Drax the Destroyer
— first appeared in the Marvel Universe during my favorite period of superhero history, the so-called Bronze Age of Comics. (You know it better as the 1970s.) The Bronze Age was a freewheeling, "throw it against the wall and see whether it sticks" period, and Moondragon combined many of the motifs popular at the time: She had connections to alien civilizations, possessed powerful psionic powers, was a skilled martial artist, displayed an antiheroic moral ambiguity, and wore a scanty costume. (Steve Carr drew her here in an outfit from a later period in her career, when she covered up a little more.) Her bald pate helped her stand out among the other, usually abundantly tressed, superheroines of the day.
The
Martian Manhunter
's origins reach back much further, to the earliest days of DC Comics' superhero revival of the 1950s. (We call it the Silver Age, in comics history parlance.) J'onn J'onzz was basically a bald, green-skinned Superman, the last survivor of an alien race. He wielded most of the Man of Steel's superhuman powers, plus more besides — he was a shape-shifter and a telepath, too. Instead of kryptonite, J'onn's Achilles heel was fire. A founding member of the Justice League of America, the Manhunter from Mars has been closely connected with the JLA throughout its existence.
My thanks to Steve Carr for knocking this commission out of the park, with all the bags juiced.
And that's your Comic Art Friday.
Labels: Comic Art Friday, Sports Bar