See Wolves, be Wolves
Congratulations to our hometown scholar-athletes, the
Sonoma State University Seawolves
, whose baseball squad won the NCAA Division II West Regional this past weekend.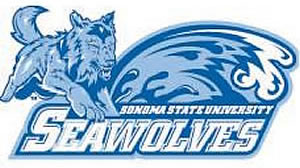 On Saturday, the Seawolves will make their first appearance in the
NCAA Division II Baseball Championships
, taking place this year at GCS Ballpark in Sauget, Illinois — home of the
Gateway Grizzlies
of the independent
Frontier League
.
That Sonoma State has become something of a small-school athletic powerhouse is no small source of amusement to me. I can recall when, in my long-ago high school days, the university barely dabbled a toe in the competitive waters, in keeping with its bohemian, "Berkeley North" atmosphere. Back then, SSU was derisively known throughout the California State University system as "Granola State," a refuge for aging hippies and their college-age progeny. The primary campus sports in that era were Frisbee and spliff-rolling, not necessarily in that order.
Over the years, as SSU gained more traditionally focused administrative leadership, its sports programs expanded and improved. Longtime NFL star lineman Larry Allen garnered national attention while playing at SSU (the school dropped football after Allen's departure, to focus on baseball, basketball, soccer, golf, and tennis), and the Sonoma State women's basketball team is a perennial contender in the NCAA Division II tournament.
The SSU team mascot also underwent a transformation. Originally, the university's athletic teams were nicknamed Cossacks — a nod to Sonoma County's Russian heritage, still in evidence today via such local landmarks as the Russian River and the town of Sebastopol.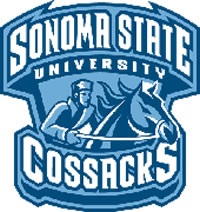 Eight years ago, someone at long last picked up a history textbook, only to discover that the real-life Cossacks were bloodthirsty invaders who raped and murdered the female citizens of the communities they ransacked, and who collaborated with the Nazis in their anti-Semitic reign of terror during World War II.
Oops.
After much public
sturm und drang
, the SSU administration changed the team nickname to Seawolves, in honor of Jack London's novel
The Sea-Wolf
, whose author lived out his final years in nearby Glen Ellen. Anyone who's ever read London's book knows that its title character is a vicious, brutal individual not unlike those Cossacks of old, but in this illiterate age, progress is progress.
Best of luck to our young Seawolves as they contend for collegiate baseball glory. Jack London would be proud.
Labels: Hero of the Day, My Home Town, Ripped From the Headlines, Sports Bar