Beware my power... Green Lantern's light!
In the interests of balance, today's Comic Art Friday is sponsored by the color yellow.
The words have been an integral part of comic book lore for decades:
By brightest day
In blackest night
No evil shall escape my sight!
Let all who worship evil's might
Beware my power...
Green Lantern's light!
More than perhaps any other superhero in comics history, Green Lantern is less a character than a concept: a guy with a powerful ring that can do almost anything he can imagine. In fact, the concept of Green Lantern has been embodied by numerous characters, although most fans would associate the name with these five:
Alan Scott, the original Green Lantern of the 1940s. Alan's ring, unlike those of his successors, possessed mystical rather than scientifically generated powers.

Hal Jordan, the most familiar Green Lantern to longtime comics aficionados, took up the title in the late 1950s as part of DC Comics' superhero revival that began with the redesigned Flash.

John Stewart, an African American, was introduced as a Green Lantern in the early 1970s. John is the Green Lantern known to viewers of Cartoon Network's various DC Universe animated series, most notably

Justice League

.

Guy Gardner, the pugnacious dimwit with the cereal-bowl haircut, is most generally known by his own name rather than as Green Lantern, even though he wears the ring and uniform of the Green Lantern Corps.

Kyle Rayner, a young comic book artist, surfaced during a mid-'90s attempt by DC to give Green Lantern more youthful appeal.
Assembled today for Comic Art Friday are three of the stalwart defenders of the cosmos mentioned above. First, the original Green Lantern, Alan Scott, teams up with Saturn Girl of the Legion of Super-Heroes to do battle with some creepy alien cephalopod, ripped from the imagination and pencil point of pinup artist Anthony Carpenter.
Alan Scott's costume spawned, several decades later, a running joke in the superhero parody film
Mystery Men
. In the movie, a character called the Blue Raja is repeatedly teased by his comrades-in-arms because, despite his name, the Raja's ensemble contains almost nothing blue. As you can see in the color picture below, the Golden Age Green Lantern's sole concession to his namesake color is a pair of green trousers. His tunic and boots were red accented with yellow, while his cape was purple with a yellow (though it looks chartreuse here) lining. In fact, it's fair to say that the Green Lantern of the 1940s wore perhaps the most gaudily mismatched (not to mention impractical) fighting togs in all of superheroism.
When Hal Jordan assumed the mantle of the Green Lantern in the 1950s, he brought a sleeker design sense to the party, if not a great deal more green. Hal's black-and-white unitard provided a stylish look for an intergalactic crimefighter, as drawn here by artist Jamal Igle.
DC Comics has, over the past 20 years or so, demonstrated a hatred for the company's classic characters that borders on the pathological. Supergirl and the Silver Age Flash (Barry Allen) were killed off during the Crisis on Infinite Earths in the mid-'80s. Superman was brutally beaten to death by an ugly monstrosity named Doomsday. Sue Dibny, the wife of the gently humorous Elongated Man, was raped and murdered.
Perhaps no DC character suffered more heaping-on of abuse than did Hal Jordan, who went insane, became a traitor against his longtime colleagues in the Justice League, and darn near wiped out the entire universe before being killed. Hal was then resurrected (sort of) as the latest guise of DC's ghostly guardian, the Spectre, easily the most bloodthirsty "hero" in comics history. Fortunately, most of Hal's ignominious past has been erased in recent months, and he's now starring in a fun new Green Lantern series that recalls the flavor of Hal's Silver Age heyday.
Finally, we look at the most recent addition to Earth's cadre of Green Lanterns, Kyle Rayner, who became Green Lantern in 1994. Kyle teams up here with Marvel Comics' Nighthawk (aka Kyle Richmond); the duo is drawn by the dynamic Kyle Hotz. Yes, friends, it's a triple-Kyle Comic Art Friday.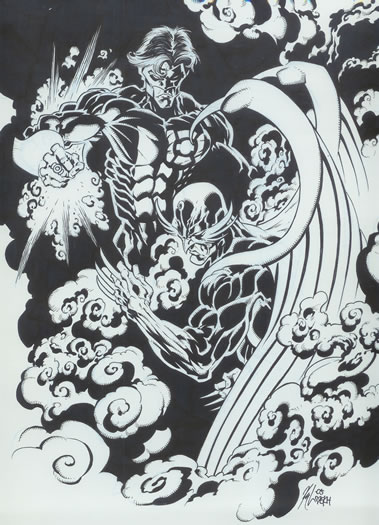 By the way, should you ever run afoul of a Green Lantern, simply enshroud yourself in something yellow. Due to an imperfection in the material from which the Green Lanterns' power rings are made, the rings can't affect anything that's yellow.
(Don't ask me. I thought kryptonite was a silly idea, too.)