We'll remember always, Graduation Day... and Super-Con '07
This week's Comic Art Friday is proudly dedicated to my daughter KM, who graduates from my high school alma mater today.
The second half of KM's senior year has been an emotional challenge, what with her mother's rediagnosis with cancer and repeated hospital stays compounding all of the "What do I want to be when I grow up?" turmoil that always accompanies this time in a young person's life. KM has managed to keep her spirits — and her grades — up, for the most part, through all of the adverse circumstances. She's a good kid, and I'm a lucky dad.
You go, Supergirl!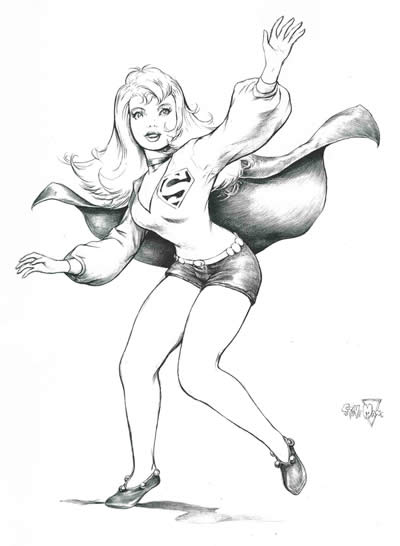 Speaking of Supergirl, this charming rendition of the Maid of Steel sprang from the pencil of
Steve Mannion
, whom I met at long last at
Super-Con
in San Jose last weekend. Steve, who lives in New Jersey, has done a couple of other commission projects for me, including the Mary Marvel pinup seen in this space a week ago today. Distance being what it is, I'd never had the opportunity to meet him and personally thank him for the wonderful art he's added to my collection. As befits a man who creates such exquisite pictures, Steve turns out to be a delightful fellow who recalled in fond detail the other commissions he's drawn for me. He was even kind enough to pose with his latest masterwork.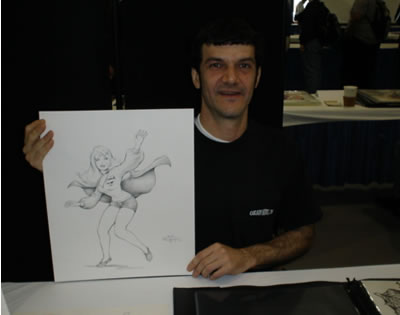 Super-Con was, as always, an enjoyable, well-run event — more intimate and friendly than the Bay Area's other major comics event, the massive WonderCon. I wasn't impressed with the new venue at the San Jose Convention Center, where amenities were sorely lacking. The guest list, however, was stellar, and con directors Steve Morger and Steve Wyatt bustled about making certain that a great time was had by all.
For me, the highlight of the event was a panel on the art of inking. Before the con, superstar artist
Frank Cho
surrendered the pencil rough of his upcoming
Jungle Girl
#1 cover to a host of talented inking specialists, each of whom brought a unique perspective to the finished work. (You can see some of the iterations, as well as Cho's original pencil art, in
Steve Morger's gallery at Comic Art Fans
.) On Saturday, several of the inkers gathered to talk about their specialty.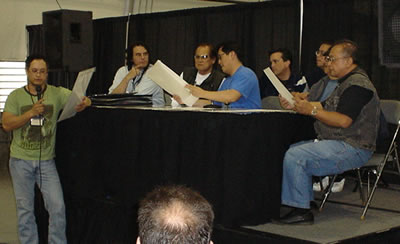 Seen in the photo above, from left to right:
The artist known as

Buzz

, best known for his work on such series as

JSA

and

Vampirella

.



Michael Bair

, noted for his collaboration with penciler Rags Morales on DC's

Identity Crisis

.


Tony DeZuniga, cocreator of the Western hero Jonah Hex; an industry legend who shepherded the comic art careers of many of his fellow Filipino immigrants in the 1970s.


Frank Cho, creator of the

Liberty Meadows

newspaper strip, and currently the penciler of Marvel's

Mighty Avengers

.



Bill Morrison

, cofounder of Matt Groening's Bongo Comics and illustrator of the comic book adventures of

The Simpsons

.



Danny Bulanadi

, a prolific inker for Marvel Comics who drew everything from Captain America to the Micronauts.


(obscured)

Alex Niño

, an innovative stylist who was the second and final artist on one of my all-time favorite comic series,

Thriller

.



Ernie Chan

, revered for his work on Marvel's

Conan

series of the '70s and '80s, both as inker over the great John Buscema, and later as primary penciler.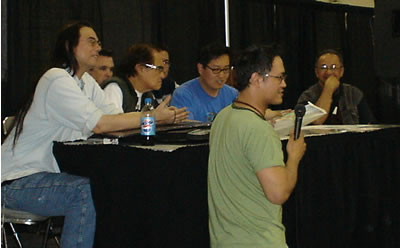 Just seeing this assemblage of talent — perhaps 300 years of professional comic art experience between these gentlemen — was an indescribable treat. Even better? Coming home with some of their art.
Tony DeZuniga, to whom Michael Bair referred as "the master draftsman," created this evocative addition to my Black Panther gallery. Tony's technique rivals that of any artist whose work I've seen up close. He uses light, shadow, and line the way Mozart used notes. Tony and his wife Tina are also two of the sweetest people I've ever met at a convention.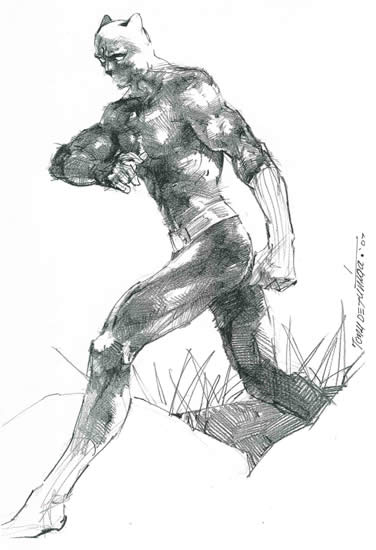 Acquiring another commission from the amazing Buzz is always a thrill, and the one-named wonder came through yet again for me. Here's Buzz, diligently working away at my Storm pinup...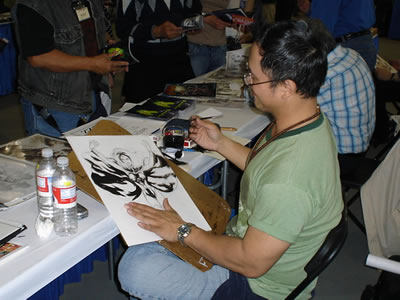 ...and proudly displaying his finished creation.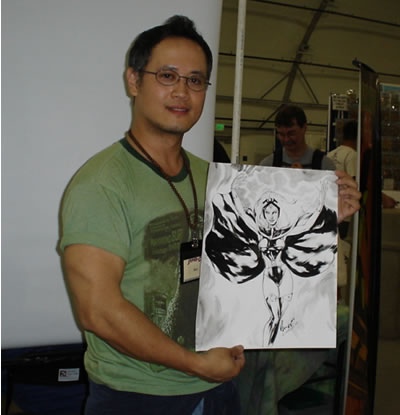 Let's see... what else did I get? Ah, yes — Alé Garza, currently the regular penciler on the Supergirl monthly series, delivered this dynamic rendition of Taarna, my
Heavy Metal
heroine.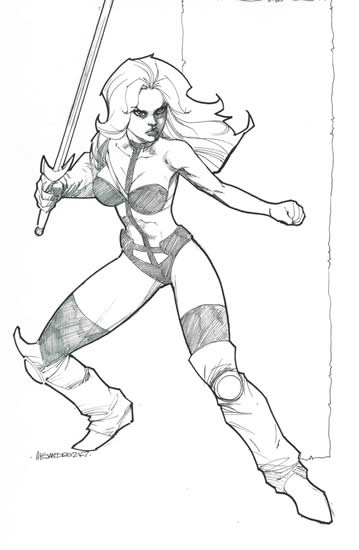 And last, but by no means least,
Ms. Marvel
penciler Aaron Lopresti drew his current assignee in her original — and still best — costume from the '70s. Aaron added a splash of colored marker to really make Carol's classic uniform stand out.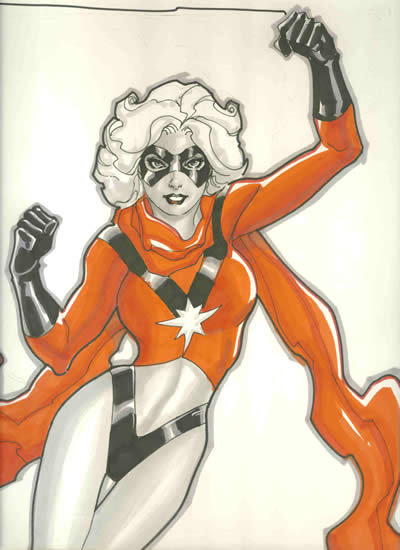 As previously noted, Super-Con offered a great time to everyone who attended. I certainly had a blast, and am looking forward to next year's event.
I'm off to graduation. That's your Comic Art Friday.
Labels: Comic Art Friday, My Home Town, Reminiscing