He's the coolest cat, with a heart of steel
Today's Comic Art Friday is sponsored by Stark Technologies: Leading the American military-industrial complex since 1962.
Submitted first for your approval is this new entry in my "Common Elements" series, a duel between Marvel Comics stalwarts
Iron Man
and
Iron Fist
(guess what the "common element" is!), dynamically illustrated by Scott Rosema.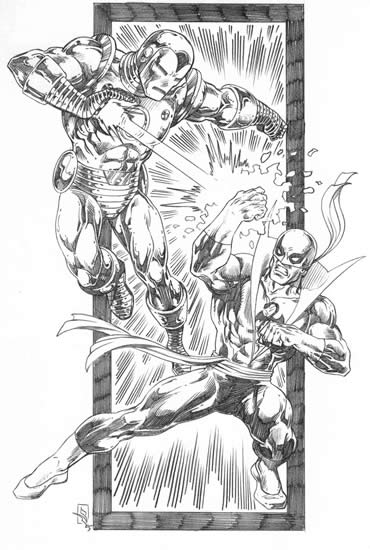 Iron Man has always been one of my favorite superheroes. Everything about the character is cool — his ever-changing, gadget-laden armor (the classic and most familiar version, used by Scott Rosema here, was reportedly designed by Spider-Man co-creator Steve Ditko, although Ditko was never the regular Iron Man artist), his physical frailty (Tony Stark, the man inside the steel suit, has a weak heart — the armor's electrified chestplate doubles as a pacemaker, keeping his ticker ticking), his human weakness (Stark has battled an alcohol addiction throughout his career), his pencil-thin mustache (the Boston Blackie kind, as Jimmy Buffett would put it), and the fact that the armor itself creates the character (Iron Man has been temporarily portrayed at various times by several Stark associates, most notably Tony's best friend Jim "Rhodey" Rhodes, who later got his own personal armor and superheroic identity as War Machine).
I also found Iron Man intriguing because he was — in his original incarnation, anyway, before the ravages of the Vietnam conflict took the bloom off the lily for many — Marvel's most distinctively patriotic (at times, even jingoistic) hero, after Captain America. Stark's inner struggle to reconcile his position as a manufacturer of the tools of war, even when the war seemed like a colossally bad idea, gave him a philosophical dimension rarely found in comics of the day. Sadly, a slew of Marvel creative teams (who often appeared to despise the character, in my view) have turned the once-noble Iron Man into a shallow, bitter, angry guy, from most of the glimpses I've taken over the past many years. But that's comics for you.
So enamored was I of the Armored Avenger in my youth that as a Cub Scout (yes, I know, hard to imagine socially phobic me as a Cub Scout, but I pulled a two-year hitch on neckerchief duty from ages eight to ten) I built a Pinewood Derby racer (think gravity-driven slot cars hand-carved from a block of wood) painted metallic gold with crimson effects, and codenamed it "Iron Man." Thirty-plus years later, that little wooden car still adorns a bookshelf in my office.
Iron Man has enjoyed a few moments of Hollywood glory, having been featured both on the
Marvel Superheroes
cartoons of the mid-'60s (featuring the stentorian tones of John Vernon as Iron Man, under the direction of iconoclastic animator Ralph Bakshi, among others) and a
slickly modern animated series
in the mid-'90s (featuring Robert Hays of Airplane fame as the voice of Iron Man, and James Avery and Dorian Harewood as Jim "War Machine" Rhodes). A
live-action Iron Man film
has been rumored for years (director Nick Cassavetes is currently attached to the project), with Tom Cruise at various times reported to be interested in playing Ol' Shellhead. I keep waiting and hoping.
For a contrasting take on the Man in Steel, here's a sharp portrait by Comic Art Friday favorite Geof Isherwood. I like the way both Geof and Scott use lighting effects to connote the fact that the character is wearing metal armor and not just another set of long underwear. Nice job on the repulsor rays, too.
And that's your Comic Art Friday. Bye-bye, and buy bonds.