Roll, Waves!
Nice to see that my old school,
Pepperdine University
, is once again in the hunt for the
College World Series
, the national championship of NCAA Division I college baseball.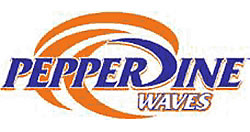 The Waves will begin regional competition on Friday at Stanford University's Sunken Diamond, in a regional that also includes Arkansas (Pep's first-round opponent) and first-time tournament qualifier UC Davis. You can check out the entire tournament bracket here. The University of Miami is seeded Numero Ono in the nationwide double-elimination playoff.
Pepperdine has a long and storied baseball tradition, having won the CWS title in 1992 under Andy Lopez, now the head coach at the University of Arizona. Roughly two dozen future major leaguers have come through the Pepperdine system, including current San Francisco Giants pitcher
Noah Lowry
, Arizona Diamondbacks starter
Dan Haren
, and 1986 National League Cy Young Award winner
Mike Scott
.
Yours truly played a microscopic role in Pep's proud baseball history, as a member of the Waves' radio broadcast team during the 1980 and 1981 seasons. I wouldn't be surprised if there's an ancient air check tape of one of my calls gathering mildew in a desk drawer somewhere — the highlight of my otherwise inconsequential stint as a play-by-play announcer was a no-hitter thrown by a Pepperdine hurler named Bob Iezza.
Pepperdine hadn't yet developed into a baseball powerhouse in those days. However, the '80-'81 squad's star catcher,
Bill Bathe
, did eventually make the major leagues, playing briefly for both Oakland and San Francisco. In fact, as a backup for the Giants, Bathe hit San Francisco's only home run during the ill-fated
"Earthquake World Series" of 1989
.
During our Pepperdine days, Bill Bathe's car once served as my personal ambulance. My girlfriend at the time prevailed upon a mutual pal — the Waves' center fielder, and Bathe's roommate — to borrow Bill's ride and rush me to the hospital during a severe bout of food poisoning. The last I heard, Bathe was a fire department captain and paramedic in Tucson, Arizona. Perhaps his tangential connection to saving my life helped frame Bill's future career path. If so, my existence is justified.
Here's hoping that the 2008 Waves enjoy abundant success in the upcoming tournament.
Labels: Hero of the Day, I Love the Giants, Reminiscing, Sports Bar