Comic Art Friday: The best of 2006
We've come to the final Comic Art Friday of this year, so you know what that means:
It's time for our Best of 2006 Awards. [cue fanfare]
We had, admittedly, a lighter year in comic art collecting in 2006 than we enjoyed the previous year. Money, as the old saying goes, doesn't grow on trees, nor does the art it can finance. But as I page through the portfolios, I'm pleasantly surprised at the number of truly stellar creations that entered my galleries over these past twelve months. So let's get started, shall we?
Favorite "Common Elements" Commission, Heroes Division:


"Night Warriors" — pencils by Darick Robertson


The Night Man and Night Thrasher
A special piece, both for its amazing technical brilliance, and because it's the only artwork in my Common Elements theme gallery that I actually observed in progress. Darick Robertson graciously allowed me to peer over his shoulder one Saturday afternoon as he drew this magnificent sketch, during a signing at my local comic shop.
Favorite "Common Elements" Commission, Heroines Division:


"The Hat Squad" — pencils by Anthony Carpenter


Lady Luck and Zatanna
Anthony Carpenter's lush pencil treatment and inventive design make this piece a standout. The fact that Anthony draws gorgeous women doesn't hurt a bit, either.
Favorite "Common Elements" Commission, Co-Ed Division (tie):


"Seconds Count" — pencils by Lan Medina


Spider-Woman II and Mr. Terrific II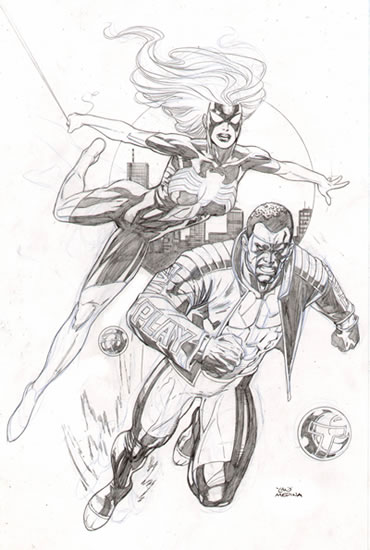 Two heroes with striking appearances join forces in this drawing by Lan Medina. I love the propulsive forward energy of Lan's layout, and the athletic grace of his figures.
Favorite "Common Elements" Commission, Co-Ed Division (tie):


"Reindeer Games" — pencils by Luke McDonnell


The Comet and Vixen
I had no idea what Luke McDonnell would do with this rather whimsical combination. When I saw the completed artwork, I was blown away. The detail, both in the design and execution of this scenario, is nothing short of amazing.
Favorite Wonder Woman:


James E. Lyle (pencils and inks) and Buzz Setzer (colors)
I own several other pieces by James E. "Doodle" Lyle, including another Wonder Woman artwork I personally commissioned from him. The moment I saw this classically styled pinup, however, I knew I had to have it. One of the very few color artworks in my collection.
Favorite Black Panther:


Ron Lim (pencils) and Bob Almond (finished inks)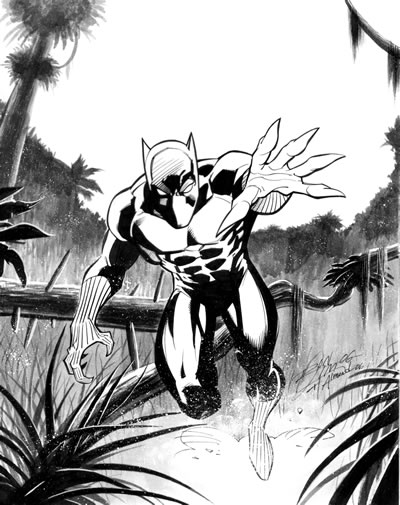 A double winner, this. Ron Lim, whom I always look forward to seeing at local comics conventions, drew the central T'Challa figure at San Francisco's WonderCon in February. A few months later, Bob Almond — who loves the Panther as much as I do — inked Ron's drawing and added a jungle background of his own creation.
Favorite Mary Marvel:


Chad Spilker (pencils) and Bob Almond (finished inks)
A rough preliminary sketch by "good girl" specialist Chad Spilker transformed into this eye-catching pinup on the drawing table of inker Bob Almond.
Favorite Ms. Marvel:


Buzz (pencils and inks)
Buzz is another artist I always look forward to seeing at conventions. Buzz accepted the commission for this piece at WonderCon, and delivered both it and an equally stellar Black Panther at Super-Con later in the spring.
Favorite Scarlet Witch:


Michael Dooney (pencils)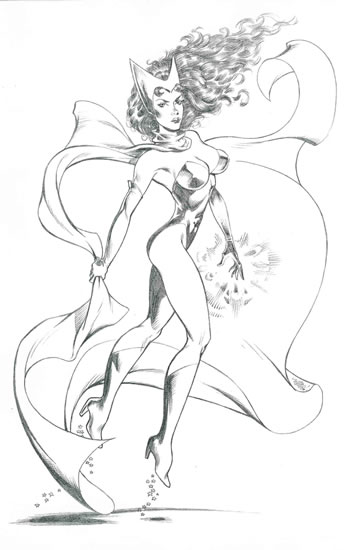 One day as I was paging through my Scarlet Witch portfolio, I suddenly realized that I'd never commissioned a Wanda from Michael Dooney. Mike was kind enough to rectify this omission by creating this beautiful drawing.
Favorite Supergirl:


Ron Adrian (pencils) and Bob Almond (finished inks)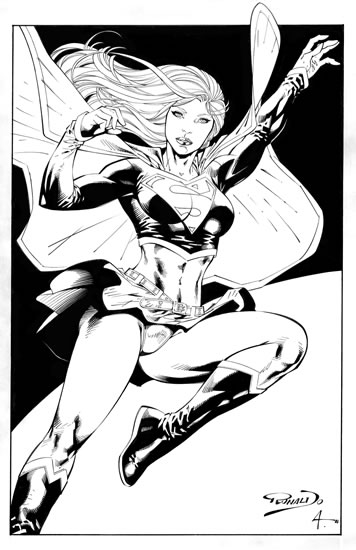 Start with a powerful pencil image by the talented Brazilian artist Ron Adrian, then add skillful embellishment by Bob Almond, and you end up with something truly spectacular, like this.
Favorite Storm:


Thomas Fleming (pencils)
Thomas Fleming is an artist whose work I would own much more of, if only I could afford it. His awe-inspiring, photorealistic tonal pencil work must be seen to be believed. I was thrilled to acquire this incredible portrait of my favorite X-Man from him.
Favorite Solo Hero:


Dynamo — pencils and inks by Dan Adkins
Dan Adkins may have been one of the most underrated artistic talents of the Silver Age. Best known as an inker, the former assistant to the great Wallace Wood is a marvelous draftsman as well. All of his skills come to bear on this evocative ink drawing of the star of Wood's classic '60s series,
T.H.U.N.D.E.R. Agents
.
Favorite Solo Heroine:


Amazon — pencils by Michael Dooney, finished inks by Bob Almond
Michael Dooney had never seen Amazon — a comingling of Wonder Woman and Storm who appeared in a one-shot Marvel/DC crossover book a decade ago — before I sent him a scan and asked him to draw her. From the looks of this piece, you'd think he'd been drawing her for years. Bob Almond contributed his typically flawless finish work.
Favorite Co-Ed Pinup:


"Blackbirds" — pencils by Rags Morales


Lady Blackhawk and The Falcon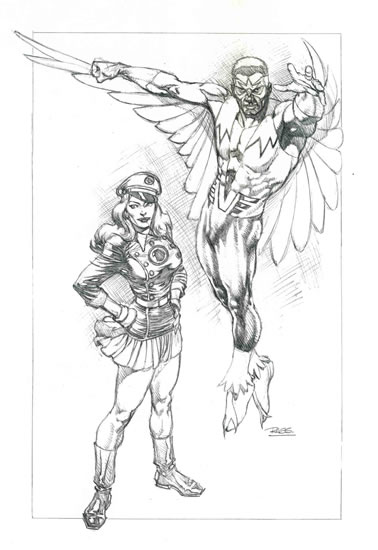 Okay, so this is really just an excuse to squeeze in another peek at one of my Common Elements theme commissions. The great Rags Morales gives a solid presentation to a couple of my favorite heroes.
Favorite Inking Makeover


"Blind Man's Bluff" — pencils by Ron Wilson, finished inks by Bob Almond


Daredevil and Doctor Mid-Nite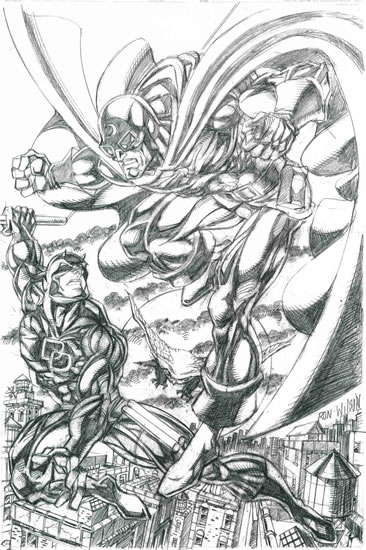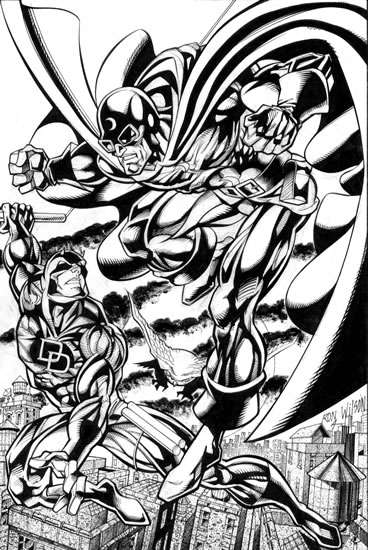 Bronze Age star Ron Wilson created the original pencil art for this Common Elements commission in 2005. This year, Bob Almond kicked this already awesome artwork up a notch with a superlative inking job that displays the complete range of his skills. This one is hanging on my office wall at this very moment.
Which is one of the reasons for this acknowledgment:
Comic Art Friday's 2006 Artist of the Year:


Bob Almond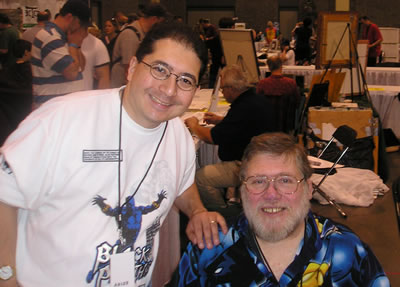 Bob Almond reminds me of those BASF commercials — he doesn't so much make art as he makes other people's art better. (That's Bob on the left in the photo above; the bearded gentleman is the late, great comic artist Dave Cockrum of
X-Men
fame, one of many legendary comic creators we lost in 2006.) As I've observed on other occasions, Bob's gift as an inker is his chameleonic ability to match and enhance any penciler's style. No matter who the original pencil artist is, I'm always confident that Bob will find a way to bring out the very best in that creator's work.
Bob delivered a number of terrific commission projects for me this year, several of which are featured above. Every one was a revelation. Bob's also a nice guy, and fun to work with. I look forward to utilizing his talents further in 2007.
Thanks to all of the creators whose artistry and imagination enlivened my collection — and my Comic Art Fridays — in 2006. I can hardly wait to see what wonders the new year will bring!
And that, dear reader, is Comic Art Friday's Best of '06.
Labels: Comic Art Friday, Listology