Now go do that voodoo that you do so well
At the risk of alienating
SSTOL regular Scott
, who was
just chiding me
about all the talk of death around here...
The great Harvey Korman has passed on.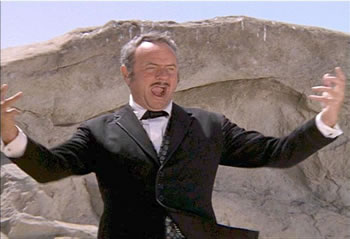 It would be impossible to discuss Harvey Korman's contributions to comedy without starting with
The Carol Burnett Show
, where he shone as the leading sketch comic in Burnett's repertory company. Korman paired especially well with Tim Conway — almost every week, a sketch on the Burnett show would devolve into barely restrained hilarity as the two veteran comedians cracked one another up in front of a live audience. Korman won four Emmys — and was nominated for an additional three — for his work on
Carol Burnett
.
For me, though, Korman will live forever as Hedy Lamarr —
"That's HEDLEY!"
— okay,
Hedley
Lamarr, the scheming villain of Mel Brooks's nonpareil Western spoof,
Blazing Saddles
. Korman steals pretty much every scene in which he appears, breathing joy into his over-the-top portrayal of a conniving government official hell-bent on stealing a tiny frontier hamlet out from under its residents so that he can make a killing building a railroad through the site.
As Lamarr, Korman is at turns pompous, vain, agitated, simpering, serpentine, and pure evil, but he is never not funny, not for even a millisecond of screen time. It's not the kind of acting that wins Academy Award nominations — despite Korman's plea for same during the film's denouement — but I guarantee that no one who's ever seen
Blazing Saddles
can hear the name "Hedy Lamarr" without hearing Korman's exasperated
"That's HEDLEY!"
from deep within the cerebral cortex.
Korman delivered numerous other hysterical performances, especially in Brooks-directed films. He was a masochistic psychiatrist in
High Anxiety
; a slick French politician, the Count de Monet, in
History of the World, Part I
; an asylum superintendent who becomes a reluctant vampire hunter in
Dracula: Dead and Loving It
.
Given that
Blazing Saddles
is my favorite cinematic comedy, and one of my five favorite movies of any genre, it's his role in that film that will keep Harvey Korman fondly etched in my memories.
Rest in peace, Hedy Lamarr.
"That's HEDLEY!"
Labels: Celebritiana, Cinemania, Dead People Got No Reason to Live, Ripped From the Headlines, Teleholics Anonymous