Bring me the head of Brian Dunkleman
Has this been the most tedious
American Idol
season in history, or what?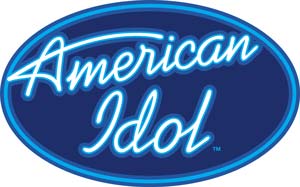 When
this year's Top Twelve were announced
— what seems like a geological epoch ago — I commented that this field seemed like the least interesting in the show's seven-year history.
Things haven't improved since.
But at least we're down to the final three, and that's something. No more false starts by
Brooke White
, no more dead-fish stares from
Kristy Lee Cook
, and as of last night, no more agonizingly soporific performances by
Jason "I'm Too Sexy for My Dreadlocks" Castro
.
Not that what we're left with is all that much better.
Syesha Mercado
is the surprise pick in the remaining trio. I didn't expect Syesha, who's been in the bottom tier more consistently than almost anyone else this season, to survive anywhere close to this late in the contest. For my money, she's the most listenable of the three singers left, and she's not hard to look at, either. But she's never shaken her penchant for selecting ill-fitting material to perform, nor has she developed much of an engaging stage personality. As I sit here typing, I can't recall the title of a single song Syesha has sung. That's not a good sign. She'll probably be the next to depart.
David Archuleta
— "Archie," as I like to call him — was everyone's early-season favorite to be anointed American Idol #7. The kid does zip for me personally. He sings pretty well, in a high school musical sort of way, but I can't say much else in his favor. He's awkward, uncomfortable to watch, and indefinably creepy in a manner that makes me fear for his household pets. If there's a market for Archie's recordings, I can't imagine of whom that market would consist. He doesn't have boy-band sex appeal, rock star charisma, or Broadway vocal power. As I said at the beginning, though, in this tepid field, I would still not be surprised if he won.
David Cook
is, to my mind, the least of the three evils left. Alt-rocker Cook, who has outlasted the other Cook and one of the two other Davids in the Top Twelve, could best be described as Chris Daughtry-lite. I'm not sure why anyone would want Daughtry-lite when the real Daughtry is alive and well and appears to be doing just fine with his career, but there you go. Cook is the most talented of the Big Three, both in vocal skill and in ability to adapt effectively to a variety of material. Were I among the teeming millions who vote each week — and I can assure you that I am not — Cook would be the one whose digits I'd dial.
Looking at and listening to Syesha and the two Davids, I'm stunned that Idol — still the most popular show on television, despite a ratings slump this season — couldn't come up with a more potent final trio. Where's the Kelly Clarkson in this group? The Fantasia Barrino? The Taylor Hicks, for that matter? (Speaking of Taylor, I believe the last time I saw his face on
Idol
, it was backstage, on the side of a milk carton.)
In most of the show's previous seasons, even the second- and third-place contestants would have performed dervish-like circles around any of these three. Just imagine such
Idol
also-rans as Clay Aiken, Kimberley Locke, Katharine McPhee, or the aforementioned Daughtry competing against this motley crew.
This snooze-inducing contest would already be over.
Labels: Celebritiana, Idol Chatter, Soundtrack of My Life, Teleholics Anonymous, The Swan Tunes In