Wizardress of Weather
Yes, true believers, it's another Comic Art Friday.
Today, I'm eagerly looking forward to spending tomorrow at
Super-Con
, the second of our Bay Area comic book conventions this year.
WonderCon
, the giant San Francisco convention in February (actually, it's in March next year), has grown by leaps and bounds over the past couple of years, but now Oakland's more intimate Super-Con (which used to be known as Golden State Con) is developing into a significant event in its own right. Adam Hughes, probably the industry's hottest cover artist, is the major headliner. I'm going to go hang out, pick up a new drawing or two, paw through some bargain bins, and basically just enjoy a day surrounded by my fellow comics geeks. If you behave, I'll bring back pictures to show you next Friday.
Speaking of next Friday, that's the day the third
X-Men
film,
X-Men: The Last Stand
, hits a cineplex near you. In anticipation of this milestone, I'm breaking out a couple of drawings of my favorite X-Man, Ororo Munroe, better known to the world as Storm. (Yes, I said X-Man, when I know full well that Storm is technically an X-Woman. Get over it.)
First, here's a stunningly detailed pencil piece by
Tom Fleming
, who's more familiar to comics readers as a painter of covers for such series as
Elektra
and
Vampirella
. He's also done a ton of illustration work for the World Wrestling Entertainment empire. Like Lucky Charms cereal, Fleming's take on Ororo can best be described as magically delicious.
Here in the 21st century, Storm is portrayed in films by an Academy Award-winning actress, and has recently been featured in two Marvel Comics miniseries — last year's
Ororo: Before the Storm
chronicled her childhood as a thief on the streets of Cairo, and the presently running
Storm
features the writing talents of best-selling novelist Eric Jerome Dickey. Ororo also figures prominently in the current
Black Panther
series, as she and the king of Wakanda are about to be married.
In light of all of the above, it's easy to forget that when she first appeared in the resurrected X-Men comic back in the mid-1970s, Storm was something of a novelty. There weren't any other prominent superheroines of color back then. (Come to think of it, there really aren't many now. There's Storm, and there's... well... Storm.)
The whole advent of the multinational, multicultural X-Men of today actually makes a rather humorous story. Marvel's executives wanted to expand the company's presence in foreign markets, and wanted a team of superheroes to whom readers in other countries could relate. Writer Len Wein and artist Dave Cockrum were handed the assignment of repopulating the then-dormant X-Men with some heroes with international flavor. Imagine the publisher's shock when Wein and Cockrum filled the roster with a heroine from Kenya (Storm), heroes from half-Communist Germany (Nightcrawler) and still-Soviet Russia (Colossus), and an American Indian (Thunderbird, killed off in the first issue). Not exactly what they had in mind.
Anyway, back to Storm. Here's a very different take on the wizard princess of weather by the Brazilian artist
Di Amorim
, most familiar in this country for his work on the
Lady Death
comic. This Storm means business!
The Amorim piece I recently acquired via a trade with a fellow collector up in Washington state. I'd admired this artwork in his online gallery for a while, and we were able to negotiate a mutually beneficial swap that enabled me to add it to my collection. Thanks again, James!
Lastly, just because I love it, a piece you oldtimers have seen before. From my Common Elements series, here's a majestic Storm in traditional African attire, partnered with Michael Moorcock's albino swordsman Elric of Melniboné — a dynamic scenario envisioned and executed by the prodigiously talented
Geof Isherwood
.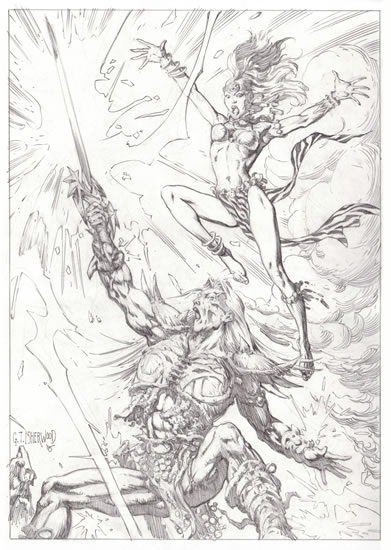 That's your Comic Art Friday. If you see me wandering the exhibit floor at Super-Con tomorrow, stroll up and say "Hey." I don't bite. Hard.
Labels: Comic Art Friday