I'm never going back to my old school
Nothing like a little excitement.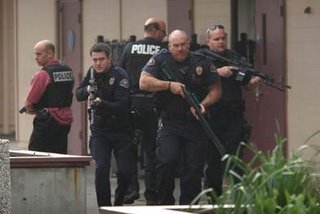 A telephone call to the CHP sent
our local high school into lockdown
this morning, with a report that
an unidentified male with a handgun
was spotted in one of the restrooms.
Grim-faced officers descended on
Rancho Cotate High School
to conduct an intensive, room-by-room search, which turned up nothing suspicious. From our house about a half-mile away, I could hear law enforcement and news-gathering helicopters buzzing overhead.
After about two hours, police sounded the all-clear. Students and teachers were given a 15-minute break to collect themselves, and perhaps inhale some fresh outdoor air. Classes then resumed without incident, although an undetermined number of parents took their students out of school for the remainder of the day.
When I was a student at Rancho Cotate 30 years (jinkies!) ago, the most noteworthy item one ever encountered in the men's room was the sickly-sweet aroma of burning
cannabis sativa
.
How times change.
Labels: My Home Town, Ripped From the Headlines