Gentleman Jim
Comics fans have experienced far too many sad times of late, what with such beloved and respected creators as
Mike Wieringo
,
Steve Gerber
, and
Dave Stevens
having passed away in recent months.
Unfortunately, the news isn't getting better.
Last weekend,
veteran comic artist Jim Mooney
left us. Mooney — known throughout fandom by the sobriquet given him by Stan Lee, "Gentleman Jim" — will be most remembered for his nearly decade-long run on
Supergirl
. By the time Mooney started his
Supergirl
stint, however, he had already been an industry fixture for almost two decades, and he was active in the field for more than 30 years after leaving the heroine with whom he was most closely identified.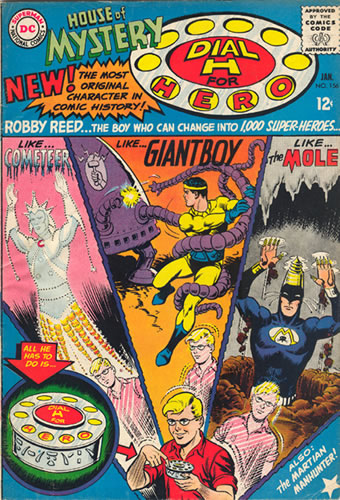 Mooney's career in comics began in 1940 with Fox Publications, one of the myriad publishers in the then-burgeoning comic book business. He freelanced for several companies before landing at National Periodicals — more famous these days as DC Comics — in 1946, as one of the many uncredited artists who ghost-drew
Batman
under creator Bob Kane's byline.
(Historical side note: It's an ongoing source of humor among comics fans that while
Batman
appeared under Bob Kane's solo credit for decades, it's likely that Kane himself never drew so much as a single panel after the book's first several months. Instead, the art in
Batman
from the early 1940s through the mid-1960s was the work of such talented, albeit anonymous, artists as Jerry Robinson, Dick Sprang, Win Mortimer, Shelly Moldoff, and Jim Mooney. Stories about Kane's duplicity in assuming acclaim for other people's creative efforts run rampant. I once heard the late comics author Arnold Drake tell one about Kane's hiring a ghost artist to paint clown portraits, which Kane later signed and sold as his own work.)
In 1959, Mooney began illustrating the adventures of Supergirl, which appeared as the secondary feature in
Action Comics
. Mooney continued as Supergirl's primary artist until 1968. During this period, he also worked on such DC properties as
Superboy
and another personal favorite,
Dial H for Hero
, about a boy named Robby Reed whose magical dial transformed him into an incredible variety of superheroes — but rarely the same one twice. Mooney's charming, slightly cartoony style worked perfectly with these lighter-in-tone characters aimed at younger readers.
In the late '60s, Mooney moved to DC's rival, Marvel Comics, initially as the inker on
Amazing Spider-Man
. Several classic Spidey stories appeared during Mooney's run, as he was inking over the pencils of stalwarts John Romita, Sr. and John Buscema. I'm especially fond of the story arc that begins in
Amazing Spider-Man
#78, which introduces one of my all-time favorite Marvel characters: Hobie Brown, aka The Prowler. A few years ago, I was fortunate to purchase from Mooney this recreation of the cover of
ASM
#78, originally penciled by John Romita, Sr. with inks by Jim. This recreation is all Mooney, drawn in late 2004 when the artist was well into his 80s.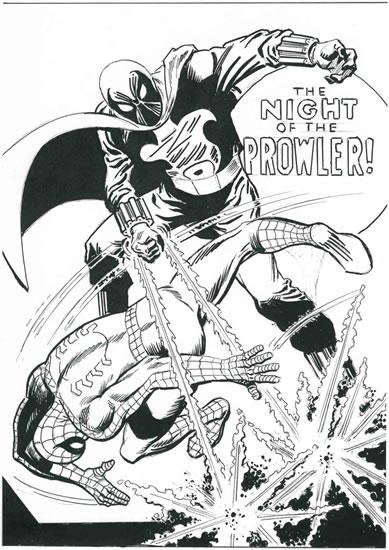 In addition to his Spider-Man work — including penciling the Web-Slinger's adventures in
Spectacular Spider-Man
and
Marvel Team-Up
— Mooney enjoyed memorable runs on several other books:
Sub-Mariner
,
Ghost Rider
,
Man-Thing
,
Omega the Unknown
, and most notably (to me, anyway)
Ms. Marvel
. The combination of the longtime Supergirl artist and Marvel's blonde-tressed Woman Warrior (whose surname, Danvers, was borrowed from an alias once adopted by Supergirl) was sheer perfection.
In April 2005, Mooney was kind enough to allow me to purchase this clever creation, depicting a surprise meeting between the two heroines for whose adventures he was most renowned. It's a recreation of an earlier commission Jim drew for collector Michael Dunne.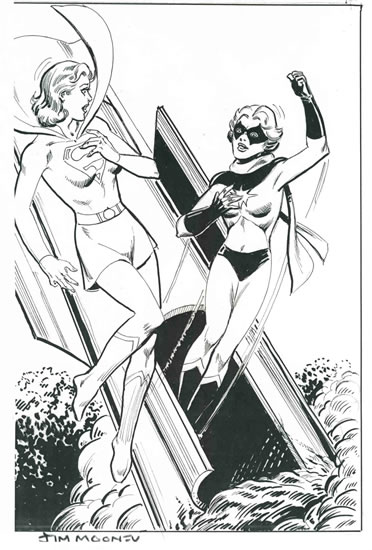 Well into his golden age, Mooney continued to draw, both for publication and for private commissions. He was working on new series for the now-defunct Claypool Comics (
Soulsearchers
and
Elvira
) as recently as a few years ago.
Although I never had opportunity to meet Jim Mooney, I did correspond with him a few times and, as seen above, I bought a couple of his original artworks. He was unfailingly polite and kind — with each of the drawings I bought, he sent me an autographed print and a brief handwritten note of thanks. I had hoped to commission a piece from him, but after his beloved wife passed away a couple of years back, Mooney fell into ill health and cut back on commission projects. I wish now that I had moved ahead with my request, if only to let Jim know how much I appreciated his talents.
In a tribute to Mooney on his blog,

News From ME
, comics scribe and historian Mark Evanier speculates that Mooney may have been one of the most prolific artists ever to work in comic books — if not, in fact,
the
most prolific. That would not surprise me. For at least three-fourths of my 40 years of reading comics, there was scarcely a month when one could not pick up a new comic book that contained the work of Jim Mooney. Although perhaps not gifted with the creative genius of a Jack Kirby or the sheer brilliance of some of today's superstar artists, Mooney leaves behind a legacy of work that is staggering in both quality and variety.
Beside which, I've never heard or read a single negative word about the man. Given a career that spanned seven decades, that's a worthy testimony.
Rest in peace, Gentleman Jim.
And that's your Comic Art Friday.