Rockets away, Dave Stevens
Most of the time, I relegate my comics-focused commentary to our Comic Art Friday feature. This week, however, so as not to cast a pall over the second half of our
interview with Inkwell Awards founder Bob Almond
— which you can enjoy in this space beginning tomorrow — I'm going to bend the rule just a touch, in a worthy cause.
Comic book and pinup artist Dave Stevens
passed away from leukemia earlier this week, at the far-too-young age of 52.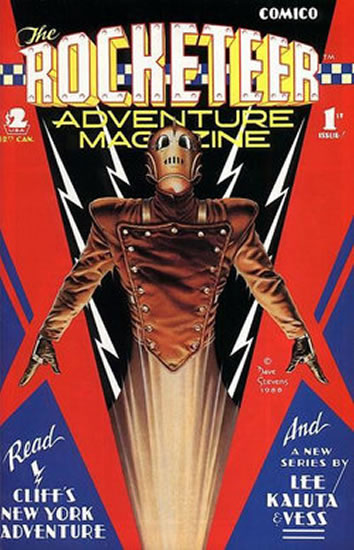 Stevens was best known to the public and within the comics industry for two significant — and in an odd way, related — accomplishments.
First, he was the writer, artist, and creative visionary behind
The Rocketeer
, a groundbreaking yet wistfully nostalgic series that spawned a
delightful live-action Disney film
in 1991. (I understand that Stevens wasn't particularly pleased with the movie, and I respect his reasons. But I enjoyed it anyway.)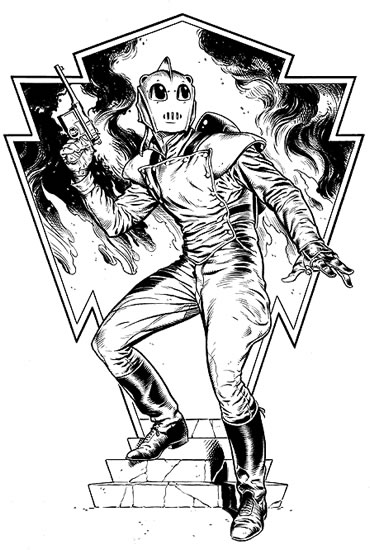 Second, Stevens was responsible for introducing
1950s pinup queen Bettie Page
to a new legion of fans when he used Page's likeness as the model for the Rocketeer's girlfriend. Stevens also personally sought out and befriended Page herself, who had withdrawn from public life to the degree that many fans believed that she had died. The renewed interest in Page's career, prompted by Stevens's impeccable depiction of her in his numerous artworks, helped the former model gain some financial stability in addition to fresh admirers.
As an artist, Stevens was notorious for his meticulous approach to his work — an obsessiveness that severely limited his output. The work he did produce, though, was nothing short of incredible. No one in the business drew more flawlessly beautiful women or more lushly detailed settings. Every artist creating "good girl" art today owes a debt of influence and inspiration to Stevens, both for his synthesis of the great masters of the form and for his own technical brilliance.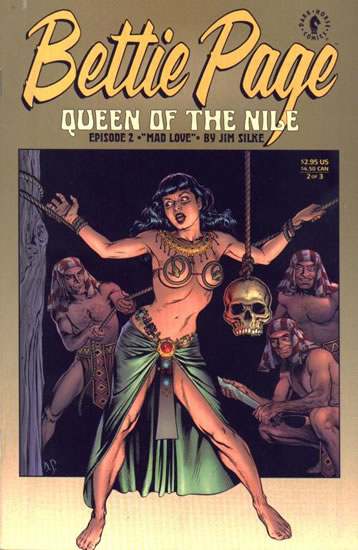 Stevens also earned a well-founded reputation as an intensely private individual — although he had battled leukemia for several years, many of his fans (myself included) remained unaware of his illness until the news of his death arrived.
It's unfortunate that the relative scantiness (no pun intended) of Stevens's production volume will prevent his work from being more widely known and appreciated outside the circle of comics fans and pinup art collectors. He was as enormous a talent as this generation of artists has produced.
A few years back, I commissioned
Heavy Metal
artist
Michael L. Peters
to create a piece for my Common Elements series featuring the Rocketeer and DC Comics' interplanetary adventurer, Adam Strange. It's as close to a Stevens original as I'm ever likely to own.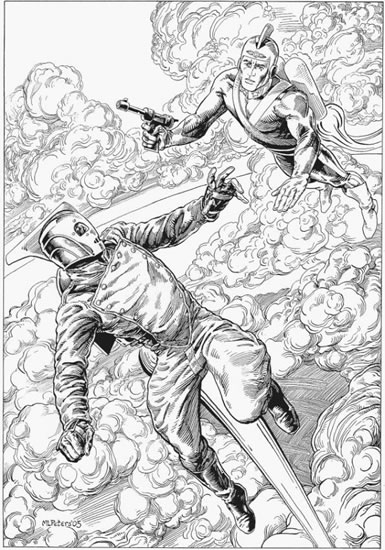 Michael's drawing is the only Common Elements artwork on permanent display in my home — it hangs on the north wall of our living room. I will treasure it always as a loving homage to Stevens's creation.
For fans who wish to pay their respects in a tangible way, Stevens's family asks that donations in Dave Stevens's name be made to the
Hairy Cell Leukemia Research Foundation
.
Keep 'em flying, Dave.
Labels: Celebritiana, Dead People Got No Reason to Live, Ripped From the Headlines