Arranger, unlimited
I was saddened to read, over at
John Neal's A Cappella News blog
, that
Gene Puerling
, the legendary vocal artist, composer, and arranger, passed away last week.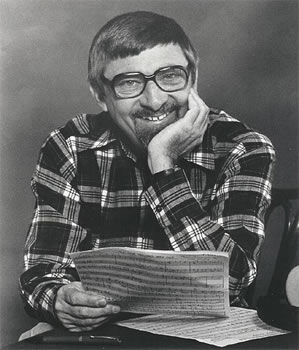 Anyone who loves vocal jazz knows Gene Puerling's work. He first came to renown in the 1950s as founder, arranger, and musical director of the seminal vocal group, the Hi-Lo's. The Hi-Lo's (named for the group's top-to-bottom vocal ranges, as well as the strikingly disparate heights of its members) enjoyed enduring popularity until they parted company in the 1960s, though they reunited to record from time to time as late as the 1990s.
In 1967, Puerling formed one of the most amazing singing ensembles ever created: the Singers Unlimited. Using only four vocalists — tenor and former Hi-Lo Don Shelton, bass Len Dresslar, Puerling himself at baritone, and the incredible Bonnie Herman singing all of the female parts, sometimes as many as 30 in a single recording — pioneered multitracking at a time when almost no one in the recording industry outside of four guys from Liverpool was making music in that way. Puerling brought the Singers Unlimited together to record advertising jingles and commercials; however, the foursome also recorded a series of magnificent albums that stand as classics of vocal jazz.
The Singers Unlimited's
A Cappella
and
Christmas
are two of my favorite albums ever. You haven't fully appreciate all of the ways that human voices can be combined until you've heard the amazing harmonies of Puerling, Shelton, Dresslar, and Herman layered together on the Beatles'
Michelle
and
Fool on the Hill
.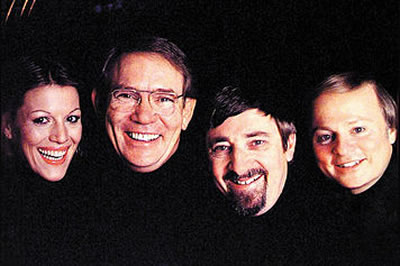 Perhaps no other musician in the contemporary idiom lent as much to the art of vocal arranging as did Gene Puerling. Groups such as the Manhattan Transfer, New York Voices, and Take 6 owe their intricate approach to harmony to the work Puerling created for the Hi-Lo's and Singers Unlimited, as well as numerous other artists. His spectacular
a cappella
arrangement of "A Nightingale Sang in Berkeley Square," written for and recorded by the Manhattan Transfer, won a Grammy in 1981. Puerling received a total of 14 Grammy nominations during his five-decade career.
I had an opportunity to meet Gene Puerling a few years ago, during one of his appearances as a judge at the finals of the Harmony Sweepstakes, the national a cappella championships. It was just a fleeting moment — we actually passed one another at the entrance to the men's room. (No, we did not shake hands.)
For fans of vocal music, Puerling leaves behind a tremendous legacy. It's fair to say that the contemporary
a cappella
movement would not exist without his influence — not, at least, in its present form and style.
You'll find an excellent interview with Puerling here.
(Scroll about halfway down the page.)
Labels: Celebritiana, Dead People Got No Reason to Live, Ripped From the Headlines, Soundtrack of My Life