CSI: Can't Sleep Intoxicated
CSI
star
Gary Dourdan
got up close and personal with real-life law enforcement this morning in sunny Palm Springs.
Dourdan — recently reported to be exiting his role as crime scene investigator Warrick Brown at the end of the current season — was
napping in his car when rousted by the Palm Springs gendarmerie
. A search of Dourdan's vehicle turned up heroin, cocaine, Ecstasy, and various prescription drugs.
Way to go out on a high note, Gary. (Heh... "high note.")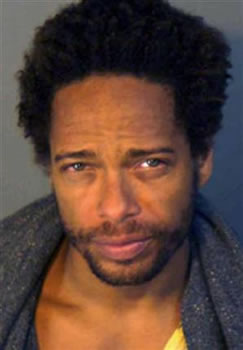 I was sorry to hear that Dourdan was departing
CSI
, even though his character's screen time has been dwindling rapidly over the past few seasons. And I'm certainly sorry to hear about his current troubles, and hope the guy gets himself straightened out. He's a talented actor.
But seriously... he couldn't afford a hotel room? I know Palm Springs is a high-rent district, but Dourdan's gotta be making a chunk of change after eight years on television's top-rated drama.
I remember the first time I noticed Dourdan — costarring alongside
James McCaffrey
(in between stints on that classic '90s
Knight Rider
rip-off,
Viper
) in a short-lived series called
Swift Justice
. McCaffrey played Mac Swift, your stereotypical ex-cop, ex-Navy Seal hardcase turned private eye, while Dourdan tagged along as Mac's stereotypical streetwise police detective associate, Randall Patterson. It sounds exactly like a few dozen other shows you've seen before, but
Swift Justice
was a reasonably entertaining example of this well-traveled genre. McCaffrey and Dourdan shared a cool, intense Crockett-and-Tubbs sort of chemistry that made the show's handful of episodes worth watching.
Another smattering of Gary Dourdan trivia: Dourdan and his
CSI
costar Marg Helgenberger previously paired up in an unsold series pilot entitled
Keys
. The 1994 TV movie (it still turns up on cable now and again) was produced and directed by John Sacret Young, for whom Helgenberger had worked in her breakout television role, in the Vietnam drama
China Beach
.
Not to be confused with
china white
, Mr. Dourdan.
Labels: Celebritiana, Ripped From the Headlines, Sexiest People Alive, Teleholics Anonymous