What's Up With That? #63: So that's what they mean by "Down Under"
And we Americans think
our
politicians are insane.
Troy Buswell, a member of the Australian Parliament and the leader of Western Australia's Liberal Party, tearfully admitted the veracity of rumors that
he smelled the chair of a female staffer shortly after she vacated it
.
Apparently, Mr. Buswell
did
inhale.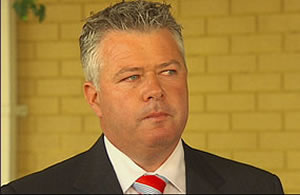 According to
The Australian
, in 2005:
Mr. Buswell allegedly lifted the woman's chair and started sniffing it in front of her, and later repeated the act in front of several staff members.
The paper further notes that last year, Buswell snapped a staff member's bra strap during a "drunken escapade," and frequently made "inappropriate comments" to female colleagues.
In an emotional public statement, Buswell acknowledged that his behavior was "unacceptable." He had no ready explanation for the white cotton underpants seen dangling from his hip pocket.
So far, there is no confirmation of the report that Buswell's favorite '70s radio hit was
"Driver's Seat"
by Sniff 'n' the Tears.
Labels: Celebritiana, Ripped From the Headlines, The Body Politic, Whats Up With That