What's On My Desk? 2008
KM and I just completed our annual post-New Year foray to our local shopping mall, to raid the calendar kiosk during its closeout 50%-off sale.
This year, my desk will be showcasing this calendar: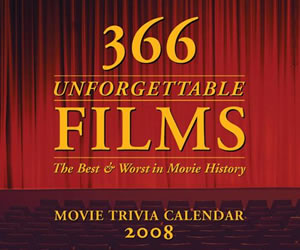 I haven't had a movie calendar on my desk in a few years, so this will be a pleasant change. In 2007, I reverted, after a hiatus of several years, to
The Far Side
, which released an authorized desk calendar for the first time in a while. The previous year, if I recall correctly, I used a sampler of "Stupidest Things Ever Said." (I was relieved to note, at year's end, that I had not been quoted.)
In case you're curious, the highlighted film for January 3, 2008 is
Monty Python and the Holy Grail
. (Memo to George W.: You can't expect to wield supreme executive power just 'cause some watery tart threw a sword at you.)
For completeness' sake, KM's new 2008 wall calendar features the cast of
Heroes
. Save the calendar, save the world.
Labels: Aimless Riffing, Cinemania, Cool Stuff, Good Reads