Just your average pre-Christmas Comic Art Friday
Today's Comic Art Friday is powered by
Roy Yamaguchi's Pacific Roast coffee
, one of the fine products in the Hawai'i Chef Series from Royal Kona Coffee.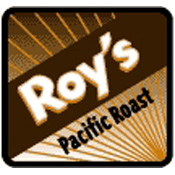 According to
the Royal Kona Web site
, this is the same coffee served in
Chef Roy's world-famous restaurants
. It's a nice medium-dark Vienna-style roast, rich and full-flavored but not overpowering, with just a hint of citrus finish on the back end. It's made with "not less than 10% Kona coffee" — at least, that's what the label says.
As they say in Hawai'i: Mo' Kona, mo' bettah.
Speaking of which, what could be mo' bettah than a pair of dynamic drawings of our favorite Marvel Comics superheroines? Not much, really — unless Chef Roy Yamaguchi dropped around and cooked dinner at my place. And brought a pot of his Pacific Roast for dessert.
Both of today's featured items flow from the pen of artist
Gene Gonzales
. Gene has worked on a number of indie comics over the past decade or so, but I'm mostly familiar with him as the artist on a late-'90s iteration of Mike W. Barr's
Maze Agency
. (
Maze Agency
, a mystery comic featuring stories in the "fair play" style made famous by Ellery Queen, is a terrific concept that Barr resurrects every few years, most recently in 2005. Its chief claim to fame is as one of the earliest projects to showcase the art of now-superstar cover artist
Adam Hughes
.)
In this first drawing, Gene presents a powerfully dramatic scenario starring
Ms. Marvel
.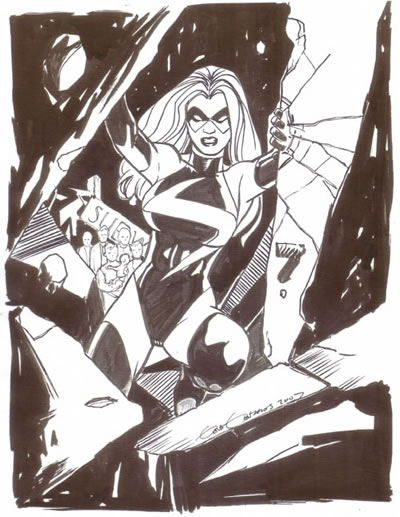 I love the subtle way that Gene sketches into the background the victims of the subway disaster. The woman holding the infant is precious.
Here, Gene gives us a more traditional pinup-style look at our favorite climate-manipulating X-mutant,
Storm
.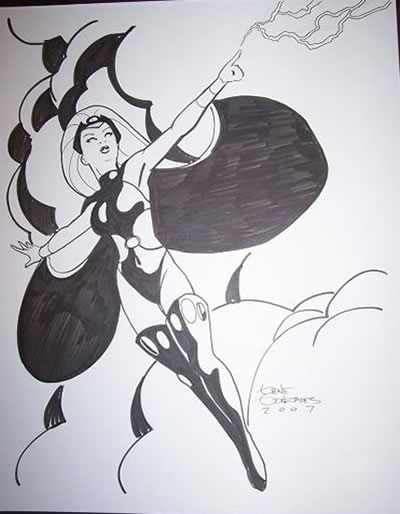 Gene's clean, simple approach makes excellent use of light/dark contrast. He's able to suggest a lot of detail without a superfluity of fussy rendering. It's a technique that many of the great comic artists of yesteryear mastered to beautiful effect... and one that far too many of today's bravura artists disdain.
Since we already have Storm on the brain, let's take a peek at this jaw-dropping piece by Ron Adrian, which juxtaposes the
Black Panther
against a background image of his weather-witching bride. We've displayed the raw pencil art on a previous Comic Art Friday — now we reveal the finished version, with inks by
Bob Almond
.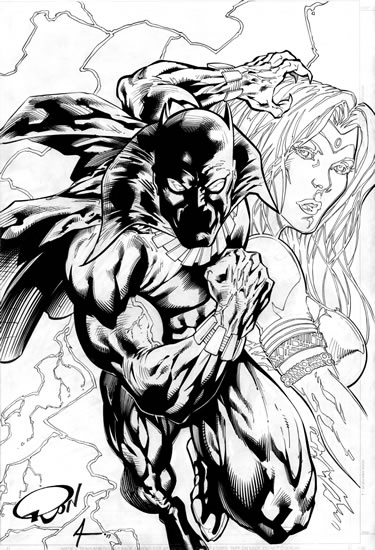 As an art collector, I'm fortunate to have access to the services of several talented inkers. The inkers whom I commission frequently — Joe Rubinstein,
Geof Isherwood
, and
Bob McLeod
, in addition to the ever-reliable Mr. Almond — share in common an openness to my suggestions. In the case of the piece above, Bob made a slight alteration to Adrian's original design that, in both my opinion and Bob's, improves the drawing immeasurably. This one currently occupies a prominent spot on my office wall.
Next week: Our annual Best of Comic Art Friday, the 2007 edition. You'll want to be here — and that's the truth, Ruth.
Labels: Caffeine Dreams, Comic Art Friday