Comic Art Friday: The best of 2007
It's the final Comic Art Friday of 2007, and you know what that means: Time for our annual retrospective of our favorite comic art acquisitions of the past year.
But before we get into our "Best Of" mode, let's give a Comic Art Friday "Happy Birthday" shout-out to
Stan "The Man" Lee
. The longtime Marvel Comics writer-editor-publisher celebrates his 85th today.
It's safe to say that much of my love for comics began with Stan, who, in partnership with such nonpareil artistic talents as Jack "King" Kirby, Steve Ditko, John Buscema, and John Romita Sr., transformed a moribund funnybook operation into the senses-shattering House of Ideas, thereby changing American popular culture forever. I still get a charge out of reading Stan's bombastic scripts in the Marvel masterworks of the 1960s.
Excelsior, Mr. Lee, and many happy returns.
And now, a look back at my favorite additions to my ever-burgeoning comic art collection from these most recent twelve months. It was a
Katharine Hepburn
kind of year: We didn't add an abundance of new meat to the gallery's bones, but what we did add was choice. (Or "cherce," if you can do a good Spencer Tracy imitation. Which I can't.)
Favorite "Common Elements" Commission, Heroes Division:


"Out of Time" — pencils and inks by Bob Layton


Booster Gold and Captain America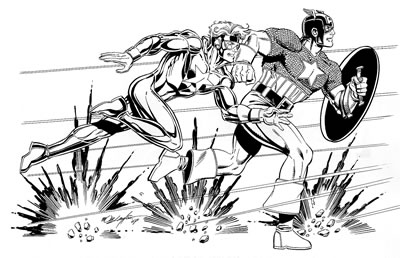 The artist best known for his work on
Iron Man
shows that he can draw other heroes with equal facility. This was this first of two Common Elements commissions Bob Layton did for me this year, both of which turned out beautifully.
Favorite "Common Elements" Commission, Heroines Division:


"Footloose" — pencils by Robb Phipps


Mantis and Gypsy
"Good girl" specialist Robb Phipps contributed this lovely pairing of barefoot heroines Mantis and Gypsy.
Favorite "Common Elements" Commission, Co-Ed Division (tie):


"In a Handbasket" — pencils and inks by Thomas Hodges


Hellboy and Hellcat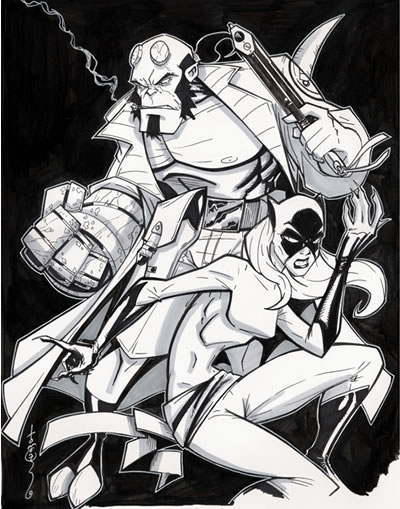 Star Wars
artist Thomas Hodges delivered this preordered commission at WonderCon 2007. Hodges's angular, ink-heavy style owes a debt to
Hellboy
creator Mike Mignola, so I thought he'd be perfect for this assignment. As usual, I was correct.
Favorite "Common Elements" Commission, Co-Ed Division (tie):


"Take a Giant Step" — pencils by Val Semeiks


Elasti-Girl and Goliath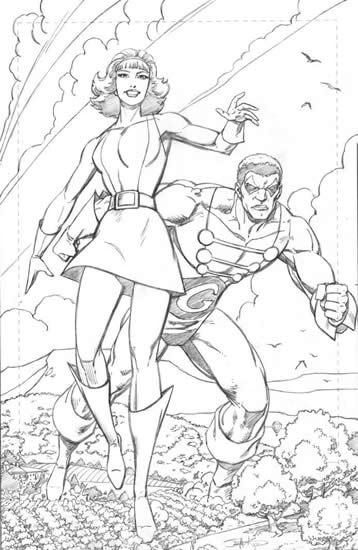 In addition to his phenomenal drawing skills, Val Semeiks was a dream to work with. He brainstormed the idea of using my beloved Sonoma County wine country as the backdrop for his creation. Val is right at the top of my list of artists to commission in 2008.
Favorite "Common Elements" Commission, Special Achievement Award:


"Marvels" — pencils by Luke McDonnell


The Marvel Families
Luke McDonnell earns his own category for taking on this daunting six-character project, pitting the Marvel Family of "Shazam!" fame against the Captain Marvels who have appeared in Marvel Comics. A real challenge to design, but Luke came though like a champion. (You can click the image above to view a larger version.)
Favorite Wonder Woman:


Michael Dooney (pencils) and Bob Almond (inks)
Michael Dooney has contributed to every one of my theme galleries. This may just be his very best ever. Bob Almond added his inking magic to make this a Wonder Woman for the ages.
Favorite Black Panther:


Ron Adrian (pencils) and Bob Almond (inks)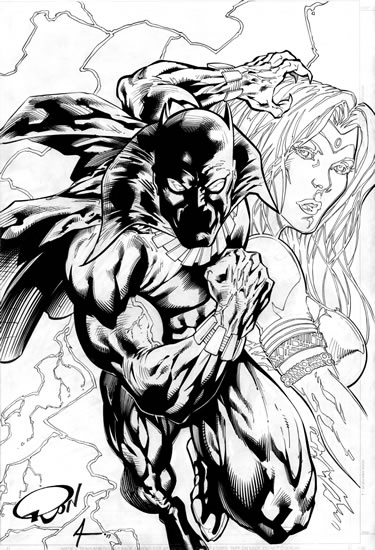 T'Challa never looked more powerful than he does in this stunning rendition by Brazilian artist Ron Adrian. Bob Almond, who's probably best known in the industry for his three-year run on
Black Panther
, was the obvious choice to ink it.
Favorite Mary Marvel:


Al Rio (pencils) and Bob McLeod (inks)
Actually, only the inking was new this year, but I so love the job Bob McLeod did finishing Al Rio's rough pencil sketch that I thought it deserved another look.
Favorite Ms. Marvel:


Aaron Lopresti (pencils and inks)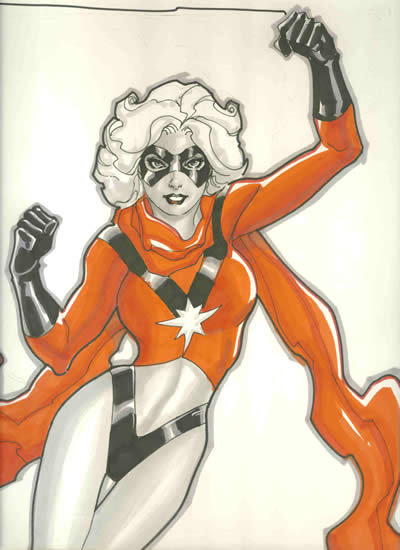 Aaron Lopresti, who recently completed an outstanding run on the Ms. Marvel series, revisited Carol's original costume for this commission, which he completed at Super-Con in June.
Favorite Supergirl:


Steve Mannion (pencils)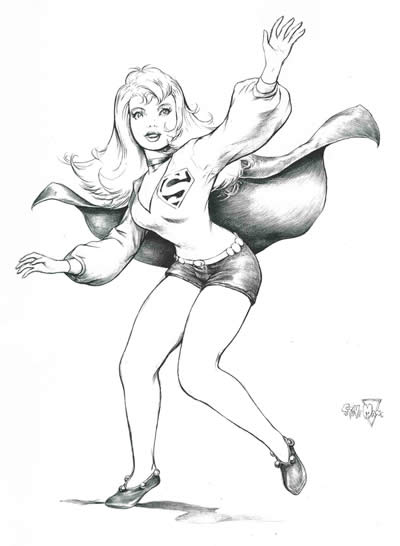 Steve Mannion's gently detailed penciling style shines in this super-cute portrait of the Maid of Steel, clad in her '70s costume. Steve drew this beauty at home, and delivered her (appropriate) at Super-Con.
Favorite Storm:


Phil Noto (pencils and inks)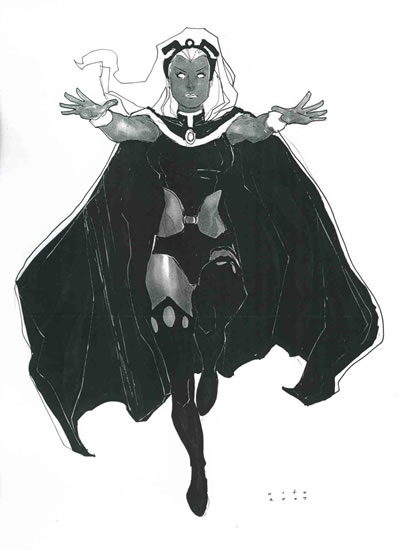 Just catching up with the always-in-demand Mr. Noto at WonderCon was a genuine coup. That he delivered this spectacular artwork was icing on the cake.
Favorite Taarna:


Mel Rubi (pencils) and Bob Almond (inks)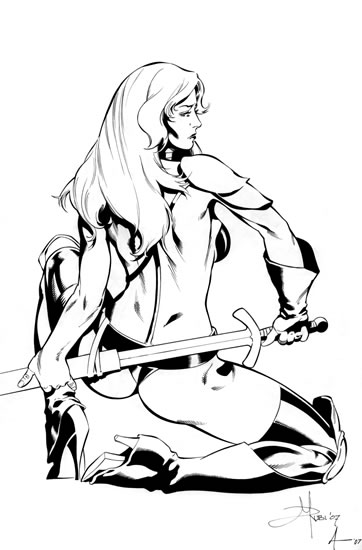 My Taarna gallery was a primary commission focus this year. Every new piece in this theme turned out great, but none greater than this one, penciled by
Red Sonja
artist Mel Rubi and inked by the dependable Bob Almond.
Favorite Isis:


Mitch Foust (pencils)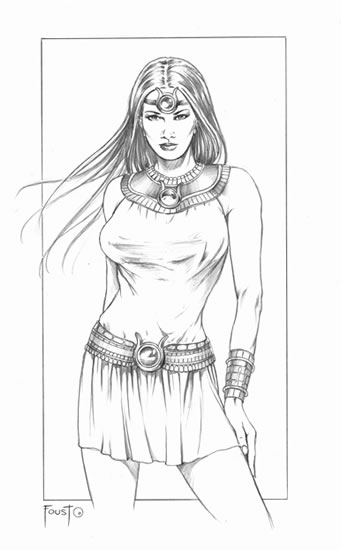 Pinup artist Mitch Foust contributed this lovely take on the '70s TV heroine, another favorite theme this year.
Favorite Non-Theme Acquisition:


Spider-Man and the Black Cat


Pencils by Jeffrey Moy, inks by W.C. Carani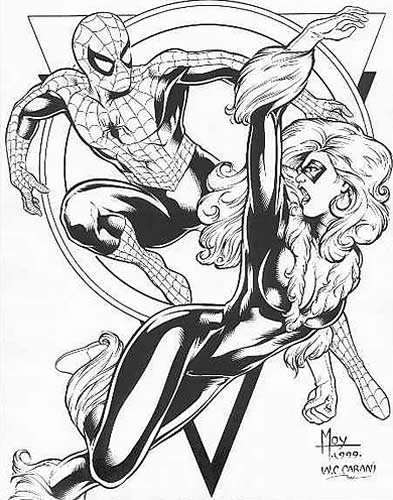 With limited funds available, my collecting this year focused almost entirely on new theme commissions. I did, however, pick up a couple of nice preexisting artworks that didn't fit into any of my signature galleries. Leading the field was this terrific pinup, a 1999 collaboration by former
Legion of Super-Heroes
artists Jeff Moy and Cory Carani.
Favorite Inking Makeover (tie):


Spider-Man and Mary Jane


Pencils by Al Rio, finished inks by Bob Almond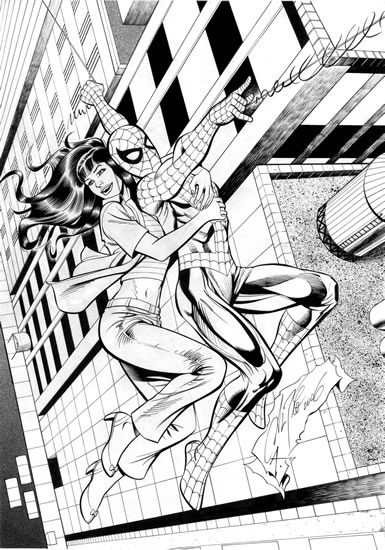 Favorite Inking Makeover (tie):


Supergirl


Pencils by Al Rio, finished inks by Joe Rubinstein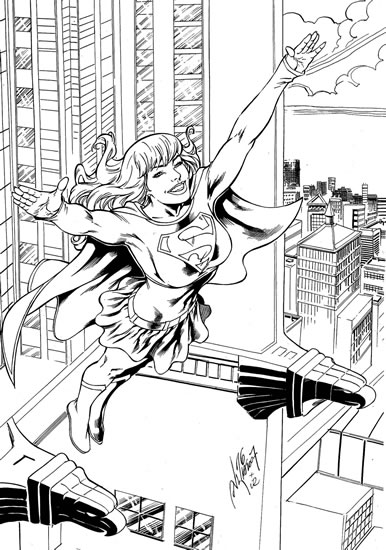 A pair of rough sketches by the ultra-talented Al Rio, transformed into finished art by two of the best in the business, Bob Almond and Joe Rubinstein.
Which brings us to...
Comic Art Friday's 2007 Artist of the Year:


Bob Almond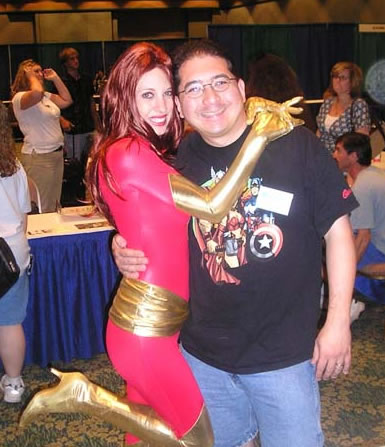 "King of Ink" Bob Almond scores his second consecutive nod as our Artist of the Year. Bob is both a tremendous talent and a truly fine working partner, who bends over backward to deliver incredible results on my inking commissions. Plus, superheroines dig him.
Thanks to each of the comic artists who expanded my collection (and depleted my funds) in 2007. You all rock!
I especially want to extend my appreciation to all the artists who took time to draw for me in person, or to present a prearranged commission, at a comics convention this year:
Thomas Hodges, Ron Lim, Buzz, Paul Ryan, Danny Bulanadi, Tony DeZuniga, Ernie Chan, Brent Anderson, David Williams, Phil Noto, Michael Ryan, Aaron Lopresti, Steve Mannion, Chris Giarrusso,
and
Alé Garza
. Thank you all for being so nice to me!
And that, true believers, is another year of Comic Art Friday. As Stan Lee would say:
Face front!
Labels: Comic Art Friday, Reminiscing