The Swan Tunes In: American Gladiators
Last night, I caught the much-anticipated (around my desk, at least) premiere of NBC's newly revived
American Gladiators
.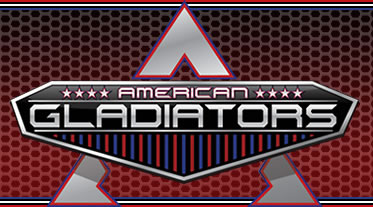 For those of you who slept through the 1990s,
the original

American Gladiators

(1989-1996)
was a syndicated competition-reality series in which average men and women (albeit average men and women in better-than-average physical condition) pitted themselves in a variety of events against a team of colorfully nicknamed "gladiators." The male and female contestants who racked up the most points each week moved on to the next round of competition later in the season. Ultimately, the show crowned victorious champions in the final episode each season.
The 2008 version of
American Gladiators
— one of a spate of "unscripted" shows spawned by the Writers Guild of America strike — restores most of the elements that made the original a hit: contestants with interesting backstories (last night's competitors included a rehabilitative physician, a professional skateboarder, a New York City firefighter, and a female Iraq War veteran), events that make for rousing viewing (several of which are upgrades of staples from the old series), and of course, an all-new crew of Gladiators.
As in the previous version of the show, the Gladiators bear catchy one-word monikers (i.e.,
Crush
,
Justice
,
Venom
). At least a couple of the names are nostalgic throwbacks (I recall a
Siren
and a
Titan
from the old days — in fact, the original Siren was played by a deaf athlete named Shelley Beattie), even though all of the personnel are new. In typical 21st-century fashion, the 2008 Gladiators tend to be bigger (all of the male Gladiators are 6'2" or taller, and I'm thinking that several members of the team — both men and women — would be hard-pressed to pass a test for anabolic steroids) and louder (
Wolf
and
Toa
, in particular, will soon wear out the welcome of their lycanthropic howls and Maori war chants, respectively) than their predecessors.
And there are at least a couple of semi-familiar faces in the bunch: Mike O'Hearn, a championship bodybuilder (a four-time Mr. Universe) and well-known male model (you'll see his muscular likeness on the covers of dozens of romance novels), plays Titan; Gina Carano, a martial artist (and daughter of former NFL quarterback Glenn Carano) who appeared as one of the trainers on Oxygen's women-boxing show
Fight Girls
, plays Crush.
I was pleased to see that the gameplay is as exciting as ever. Most of the old games have been given a fresh twist (Joust, in which a contestant and Gladiator attempt to knock one another off tiny pedestals with pugil sticks, is now played above a pool of water), and the new games are intriguing. I especially like Earthquake, in which the competitor and Gladiator grapple on a swinging Plexiglas platform high above the arena floor (and yet another pool of water). The end game, a torturous obstacle course called the Eliminator, has been ratcheted up to an extreme level that leaves the contestants nearly comatose from exhaustion by the time they crash through the foam-brick wall that marks the finish line.
My main problem with the revival is that the episodes feel padded, mostly with useless yammering by commentators Hulk Hogan and Laila Ali. (What's the matter, NBC? Did you lose Mike Adamle's phone number since the last Olympics?) I'm certain that the original series managed to cram more events into each show than the four we're getting here. Memo to NBC: Less yak, more smack.
The new show also seems to be trying too hard to make "personalities" out of both the competitors and the Gladiators — especially the aforementioned Wolf and Toa, and the Valkyrie-themed female Gladiator who's saddled with the amusing nickname
Hellga
. Back in the day, fan favorites — male Gladiators Gemini (former NFL player Michael Horton), Laser (stuntman Jim Starr, who gained additional notoriety when it was revealed that he was married to porn star Candie Evans) and Nitro (who eventually moved into the
AG
commentator's chair under his real name, Dan Clark), and female Gladiators Zap (bodybuilder Raye Hollitt, who enjoyed a modest mainstream acting career) and Lace (actress Marisa Paré, who parlayed her Gladiator fame into a
Playboy
pictorial) — just naturally evolved as the seasons progressed.
Is
American Gladiators
high art? Of course not. Is it schlock TV? Well, sure. Is it a half-step removed from professional wrestling? In style and tone, perhaps, although the competition is real (as are the contestants) and the outcomes are not — so far as I'm aware — scripted.
But is it entertaining enough to keep me tuning in on Monday nights, at least until something better comes along? You bet.
Labels: Celebritiana, Reminiscing, Teleholics Anonymous, The Swan Tunes In