Funky phantoms
Before we delve into this week's Comic Art Friday, I have to get one thing off my chest...
Take this, Joe Quesada.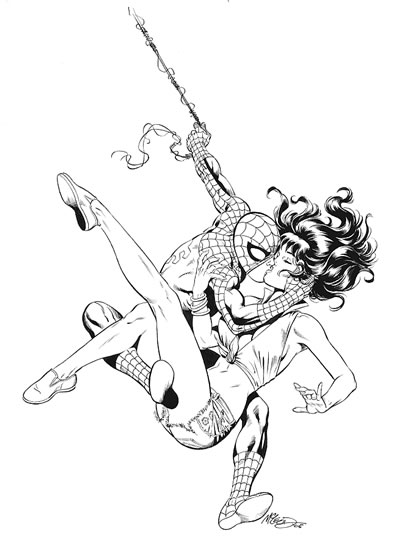 I don't feel entirely better now, but that helped.
Moving on...
Although he's probably more familiar to comics readers from his work on
The Flash
and
Legion of Super-Heroes
,
Greg LaRocque
is one of the many artists who've been called upon to illustrate the adventures of Spider-Man during the Wall-Crawler's 45-year career. Greg was the inaugural penciler of the '80s-'90s series
Web of Spider-Man
, and also drew a year's worth of
Marvel Team-Up
, in which Spidey partnered with a different Marvel superhero each month.
When I heard that Greg was actively seeking commission projects, I knew I had to have him add a new page to
my Common Elements gallery
. (For the benefit of any first-timers present:
Common Elements
is my ongoing series of commissioned artworks, in which each drawing features two or more otherwise unrelated superheroes who share some characteristic in common.) Here's Greg's take on two classic characters:
Phantom Lady
and
the Phantom Stranger
.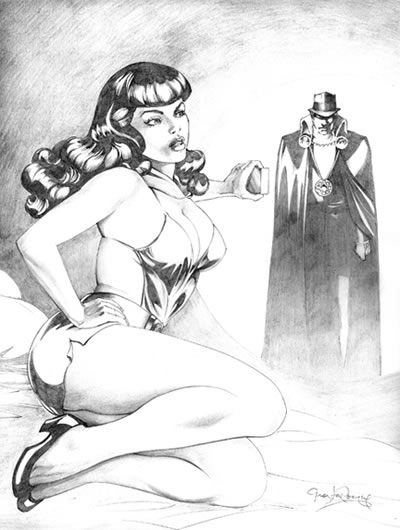 Interestingly enough, when I approached him, Greg came up with several Common Elements-style pairings of his own, one of which included Phantom Lady. That makes perfect sense — as you can see, his style fits her like a glove. (I know, I know: She doesn't wear gloves. Don't interrupt me when I'm on a roll.) And I like Greg's visual device of making the mysterious Phantom Stranger appear out of Phantom Lady's "black light" beam.
As for Phantom Lady herself, she holds an intriguing place in comics history. She was one of the earliest female superheroes, making her debut in the August 1941 issue of
Police Comics
. Her adventures were published by Everett "Busy" Arnold's
Quality Comics
, which outsourced most of its early content from the art studio of Will Eisner (creator of
The Spirit
) and S.M. "Jerry" Iger. The Eisner & Iger studio produced numerous successful series for Quality, including
Blackhawk
,
The Ray
, and most memorably,
Plastic Man
.
By the late '40s, the vast majority of superhero comics had gone the way of the dodo and the passenger pigeon. This included most of the Quality lineup. The Iger studio (Eisner and
The Spirit
had departed by then) shifted Phantom Lady over to another publisher, Fox Features. The Fox version of the character was drawn by the supremely talented Matt Baker, a leading pioneer of what came to be known as "good girl" art (or "headlights comics").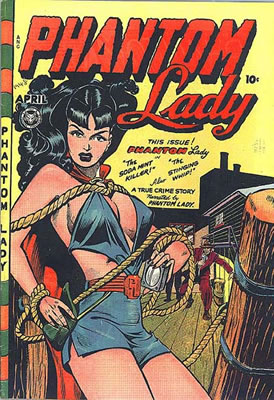 Baker's cover drawing from
Phantom Lady
#17, depicting the impressively endowed heroine bound to a pole with rope, became the star exhibit in
Dr. Fredric Wertham's

Seduction of the Innocent
, a scathing indictment of comics' supposed deleterious effects on the psychological health of American youth. Wertham's book triggered Senator Estes Kefauver's infamous inquiry into the comics industry, which in turn led to widespread (albeit industry-sanctioned) censorship in the form of the Comics Code Authority.
As for the Phantom Stranger, he was the focal point of one of mainstream comics' first furtive forays into the realm of the supernatural under the Comics Code. Introduced in 1952 but essentially abandoned after a brief six-issue run, DC Comics resurrected the Stranger (no pun intended) in 1969, just as DC and Marvel were beginning to flirt with the reintroduction of the horror themes that had twisted Wertham's and Kefauver's underpants more than a decade earlier. The Stranger's second series, which ran until 1976, helped pave the way for the onrush of supernatural titles in the '70s, everything from Marvel's
Tomb of Dracula
and
Werewolf by Night
to DC's
Weird War Tales
and
Weird Western Tales
.
The Phantom Stranger remains unique among comics heroes in that his true identity has never been revealed, and his origin and powers (which are rivaled in the DC Universe only by those of the Spectre, who is supposed to be an agent of the Almighty Himself) have never been clearly defined. It's been speculated that the Stranger might be a fallen angel, the last survivor of a prior universe... even the legendary
Wandering Jew
.
Or, like the Sphinx in the film
Mystery Men
, he might just be very, very mysterious.
Not so mysterious, however, is the appeal of Greg LaRocque's art. That's evident from his lovely portrait of the Scarlet Witch, as embellished by inker Bob Almond.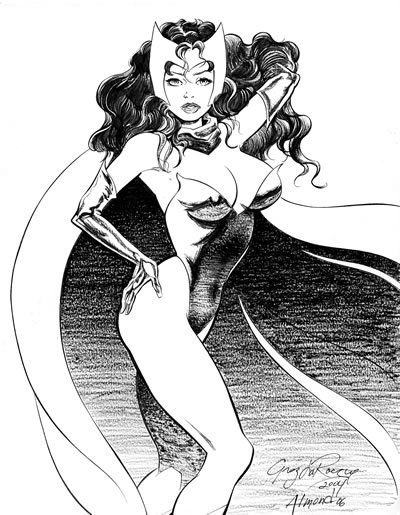 As mentioned earlier,
Mr. LaRocque is available (and highly recommended) for commissions
. You can tell him your Uncle Swan sent you.
And that's your Comic Art Friday.
Labels: Comic Art Friday, Taking Umbrage