The Goose gets loose
Congratulations to
Rich "Goose" Gossage
on becoming only
the fifth relief pitcher to gain election
to the Baseball Hall of Fame.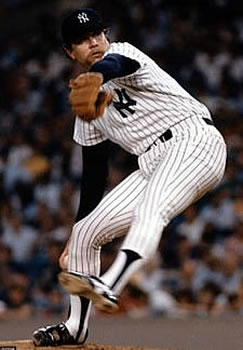 As
I wrote in this space when the Hall of Fame ballots were distributed last November
, Gossage certainly deserved to be voted in before this, his ninth year of eligibility. As I also noted, this year offered Gossage his best opportunity, as none of the 11 new names on the ballot would garner much attention. Of the fresh faces, only
Tim Raines
— a very good, but not great, player — logged enough votes to remain on the ballot next go-around.
I'm disappointed that
Jim Rice
, the American League's best all-around player for more than a decade, was denied election for the 14th time. On the positive side, Rice received considerably more votes this time than he ever has before, so there's a chance that he'll make it over the hump next year — his final shot at the ballot box.
With all of the anti-steroid furor of recent months, it should surprise no one that
Mark McGwire
fell far short of election for the second straight year. In fact, McGwire notched exactly the same number of votes he got last year: 128 (a total of 407 was needed in this year's balloting). I maintain that, steroids or no steroids, McGwire is not a Hall of Fame player in my estimation. An decent-fielding first baseman with a mediocre career batting average (.263), Big Mac wouldn't even be considered in the Hall of Fame conversation were it not for his now-suspect home run numbers.
The biggest addition to next year's eligibility list: Record-setting base stealer and 1990 American League Most Valuable Player
Rickey Henderson
. (Remind me in November to tell you my funny Rickey Henderson story.)
Labels: Hero of the Day, Ripped From the Headlines, Sports Bar