Bombs away, dream babies
Today's Comic Art Friday is dedicated to the memory of
John Stewart
, the singer-songwriter who passed away last Saturday at the age of 68.
Stewart was most familiar to music aficionados as a member of the seminal folk group, the Kingston Trio, with whom he performed in the early to middle 1960s, and as the composer of the pop standard "Daydream Believer," a hit for both The Monkees and Canadian songstress Anne Murray.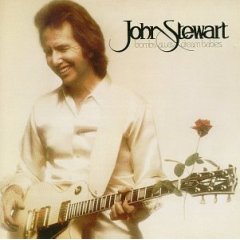 For me, though, the quintessential John Stewart recording was his 1979 solo album,
Bombs Away Dream Babies
, with its Top Ten single, "Gold." ("Midnight Wind," from the same album, was a pretty decent tune, also.) The album features stellar backing vocals by Stevie Nicks, and guitars by her Fleetwood Mac (and one-time real-life) mate, Lindsey Buckingham.
As a college radio DJ in the early '80s, I gave that platter frequent enough airplay that Stewart's label should have slipped me payola. (First
Dan Fogelberg
, now John Stewart — I am burning through my street cred at a horrifying rate.) I was mildly surprised to learn from his obits that Stewart lived just down the freeway from me, in Marin County, for the last several years of his life.
Bombs Away Dream Babies
may very well be one of the five or six coolest album titles ever. So cool, in fact, I swiped it for this next installment in my Common Elements comic art series.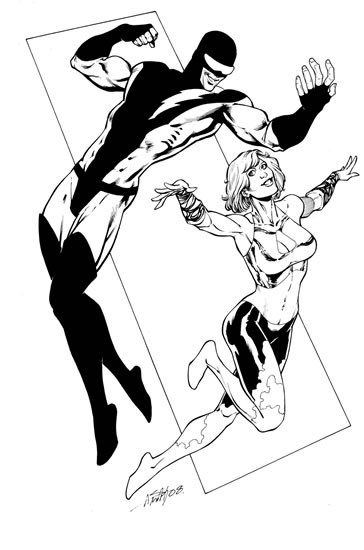 Artist
Andy Smith
, who contributed some sensational pencils to a
Red Sonja/Claw the Unconquered
crossover miniseries a while back, brings together two of comics' greatest "dream babies." That's the improbably monikered Horatio Hellpop — better known as
the cosmic superhero Nexus
— at left. His fetching companion is Nura Nal, the precognitive heroine whose Legion of Super-Heroes code name is
Dream Girl
.
Like the rest of her Legion teammates, Dream Girl has been a fixture in comics since the early 1960s. Although she's one of the least imposing Legionnaires — to be honest, the ability to see the future in dreams isn't exactly the most scintillating superpower — she's retained her position as a mainstay of the popular squad for more than four decades. And finally, after years of snore-inducing, solid white costumes, she's finally obtained a visually interesting uniform — the cloud-themed ensemble Andy Smith depicts in his drawing above.
The creation of writer
Mike Baron
and artist
Steve "The Dude" Rude
, Nexus is a young man living in the far-flung future who receives amazing superpowers in exchange for bringing the galaxy's mass murderers to justice. Horatio experiences painful nightmares about his intended targets' crimes that only subside when the evildoers are executed by the powers of Nexus. It sounds a lot darker than it actually plays — Baron and Rude infuse the material with a propulsive sense of fun and wonder, and never take themselves (or their hero) too seriously.
One of comics' most recognizable stylists, Steve Rude has become something of a legend in the industry with his dramatic line and clutter-free design sense. That combination is evident in this commission Rude created for me a couple of years ago, pitting Mary Marvel against an onslaught of guided missiles. Bombs away, Mary!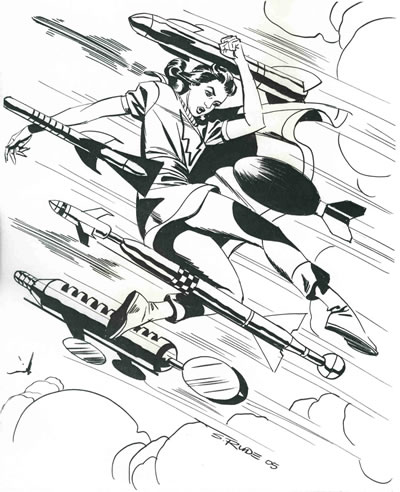 Rude's work is heavily influenced by such artists as Jack Kirby, and especially by Alex Toth, to whose Space Ghost character Nexus bears some (not entirely unintentional) resemblance — as you can see in this Common Elements drawing by Scott Rosema, in which Space Ghost appears alongside the Western hero Ghost Rider.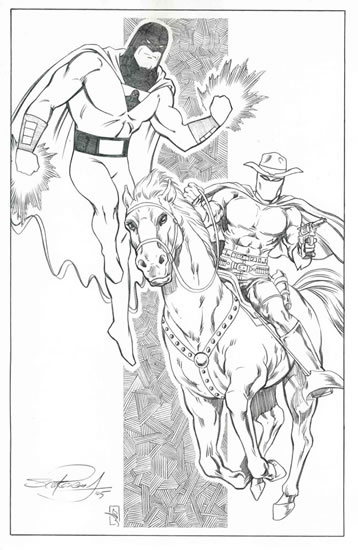 Nexus
, incidentally, is that extreme rarity in comics — an independently distributed, creator-owned superhero comic that's both well-reviewed and reasonably successful. Nexus's adventures first began appearing in the early 1980s, ran more or less regularly for a decade (with an occasional shift in publishers), then resurfaced periodically throughout the '90s. Baron and Rude relaunched the series last year after a lengthy hiatus. They also just reissued Nexus's origin story — a great way to introduce new readers to this terrific character.
And that, dream babies, is your Comic Art Friday.
Labels: Comic Art Friday, Dead People Got No Reason to Live, Soundtrack of My Life