Special victim
I don't know
Evanthia Pappas
.
But I intimately know someone like her.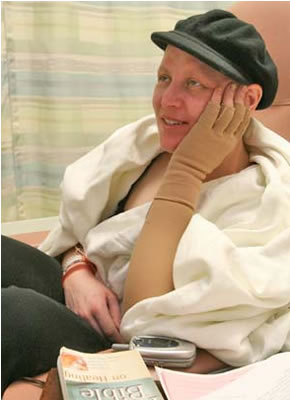 Evanthia, a prosecutor who works for the Sonoma County District Attorney's office in the so-called "special victims unit" (dealing with sexual abuse and domestic violence crimes), was diagnosed a year ago with stage 4
inflammatory breast cancer
. IBC is a relatively uncommon disease — it accounts for only about two percent of breast cancer cases — and is much tougher to diagnose and treat than solid-tumor breast cancer like KJ's.
The
M.D. Anderson Cancer Center in Houston
has offered Evanthia the opportunity to participate in
a clinical trial of an experimental treatment involving stem cell transplantation into her bone marrow
. It's an expensive ticket — Evanthia's portion of the bill totals approximately $250,000 — and no insurance company, pharmaceutical entity, or government program covers it.
With the help of family, friends, and coworkers, as well as our local Greek-American community, Evanthia is raising this hefty sum on her own.
Having spent a dozen years in the health care industry, and seven years and counting as the husband of a woman battling breast cancer, I've read reams of information about breast cancer and its treatment. I know that the course of therapy Evanthia Pappas is attempting probably isn't the light at the end of the dark and terrifying breast cancer tunnel. Most researchers discontinued investigation of bone marrow transplant treatment of breast cancer more than a decade ago, because, quite frankly, there was no clinical evidence that it worked. Sad — infuriating, even — though it is, I understand fully why Evanthia's insurance company won't cover an experiment that the current medical literature doesn't support.
But, as KJ just said to me,
"Someone had to be the first to try the treatments I'm getting now."
And she's right. Evanthia Pappas may or may not benefit from this experiment. It may help her body stave off her cancer, and it may not. Her participation in the trial, however, may help medical scientists learn something new that will eventually save other women's lives. For that, if for no other reason, it's worth a shot.
A quarter-million bucks is a ton of cash. But it's a small price to pay for hope.
If you're so inclined, you can make a contribution to Evanthia Pappas's quest for life by writing a check payable to
The Evanthia Pappas Transplant Fund (S-5 Account)
, and mailing it to:
San Francisco Police Credit Union
2550 Irving Street
San Francisco, CA 94122
Evanthia will thank you. And someday, your wife or daughter, mother or sister, lover or friend may thank you, also.
After all, it's only money, right?
Labels: Breast Cancer Awareness, Hero of the Day, My Home Town, Ripped From the Headlines, Weird Science