To know her is to fear her!
When last we convened for Comic Art Friday,
we memorialized the passing of veteran comic book artist Jim Mooney
, who left us on March 30.
I noted in that post Mooney's close association with one of my all-time favorite superheroines, Ms. Marvel. Thanks to one of those mental blocks that occur with alarming frequency in those of a certain age (ahem...), however, I neglected to mention that "Gentleman Jim" was one of the artistic cocreators of another of those great '70s heroines that I love so much:
Jessica Drew, the original Spider-Woman
.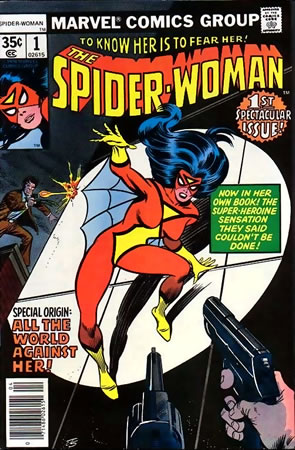 Like many female characters of the Silver and Bronze Ages of comics, Spider-Woman existed primarily to establish a trademark on a distaff version of a popular male hero (i.e., Supergirl, Ms. Marvel, She-Hulk). Of course, once you've created such a knock-off character, you actually have to publish her in order for the trademark protection to take effect.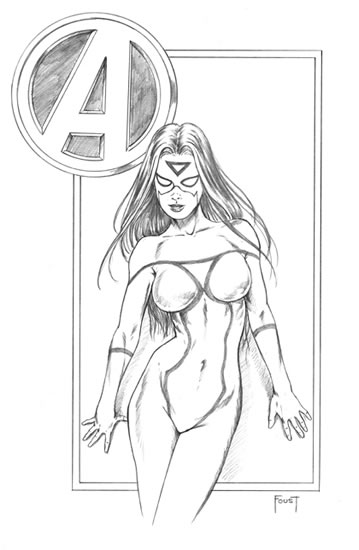 Thus, Marvel Comics cranked out 50 issues of Spider-Woman's adventures, to resounding ennui from the comics-reading public. The company even produced a short-lived (16 episodes, aired in the fall of 1979) animated TV series recounting the exploits of the Arachnid Adventuress. Again, the mass audience remained unmoved. (Trivia: In the cartoon, Spider-Woman's voice was supplied by the legendary Joan Van Ark of
Knots Landing
fame, who today sports
one of the most horrific plastic surgery visages known to humankind
.)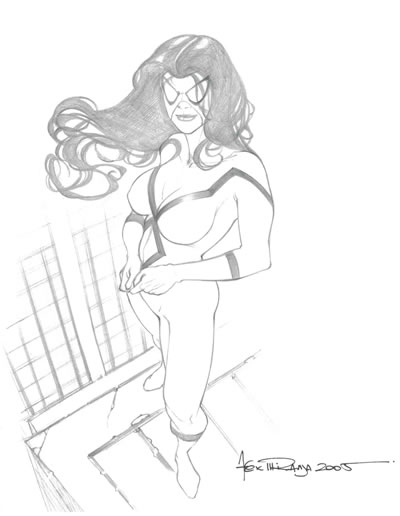 All of which is too bad, really. Not only did Spider-Woman evolve into an intriguing character — despite the superficial thematic similarity, she really isn't very much like Spider-Man at all — but Jessica's eventual fading from the Marvel Universe in the early '80s spawned an opportunity for a new and improved Spider-Woman, Julia Carpenter, to appear.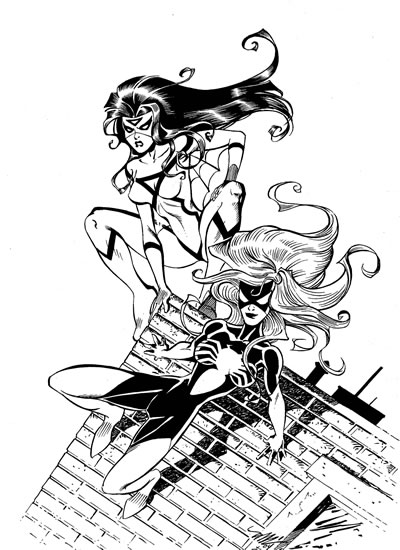 The rationale for Julia's creation was even more shallow than Jessica's — Marvel wanted to trademark, in feminine form, the black-and-white costume Spider-Man acquired during the 1984 mega-event
Secret Wars
. Her single-mother-as-superhero backstory, however, was novel for its time, and added a welcome layer of emotional realism to the character.
Here's Julia in action, alongside the Justice Society's Mr. Terrific, in a Common Elements commission by
Fables
artist Lan Medina.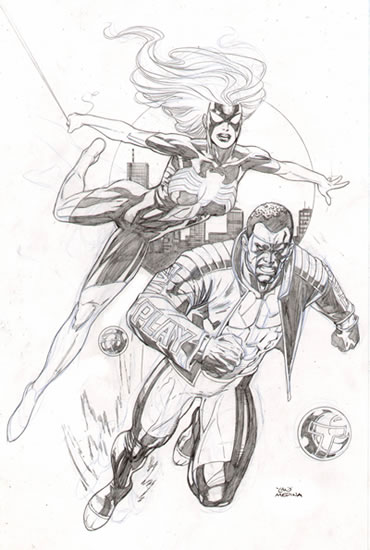 These days, the original Spider-Woman is back with a vengeance. Jessica's a prominent character in the current
New Avengers
title written by Brian Michael Bendis, and figures to play a major role in Marvel's latest crossover epic,
Secret Invasion
.
It's good to have her hanging around the Marvel Universe again.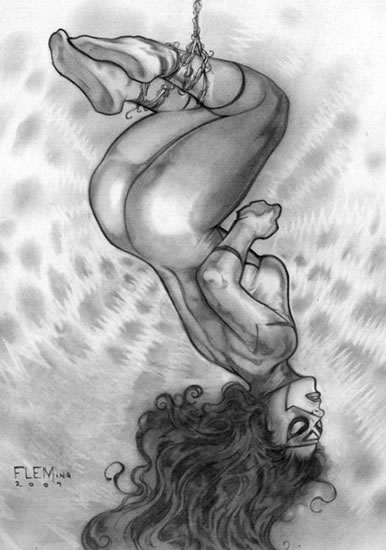 And that's your Comic Art Friday.