Astronaut of the year (literally)
Just a few hours ago,
NASA astronaut and biochemist Peggy Whitson
achieved a noteworthy milestone:
She became the first woman in history to spend the equivalent of one full year in space.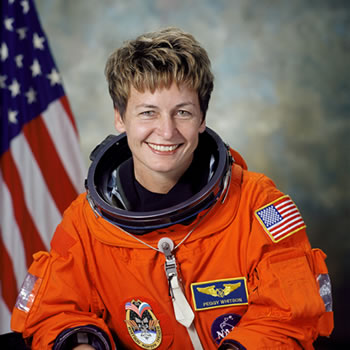 Dr. Whitson — currently the commander of the
International Space Station
and its resident mission team,
Expedition 16
— is nearing the conclusion of her second extended tour aboard the ISS. At this writing, she has logged slightly more than 180 days in space on her present assignment. Combining this mission with the 184 days, 22 hours, and 15 minutes Whitson spent aloft six years ago as flight engineer of
ISS Expedition 5
(June 5 to December 7, 2002) gives the groundbreaking astronaut a grand spaceflight total of 365 days and change.
Whitson also holds the record for most spacewalks (Extra-Vehicular Activities, if you want to get all technical about it) by a female space traveler: six EVAs totaling 39 hours.
Last fall, when Space Shuttle
Discovery
's STS-120 team, under the command of
U.S. Air Force Colonel Pam Melroy
, visited the ISS, Dr. Whitson and Col. Melroy became the first two women to command active space missions simultaneously.
Dr. Whitson and her colleague, Russian cosmonaut
Yuri Malenchenko
, are scheduled to return to
terra firma
aboard Soyuz TMA-11 — the same craft that carried them to the ISS last October — on April 19.
We bid them a safe journey home.
Labels: Celebritiana, Hero of the Day, Ripped From the Headlines, Weird Science