Quoth the Raven, "Nevermore"
Sad news for the
Famous Monsters of Filmland
crowd:
Hazel Court
has died.
Yes, for real this time.
Hazel Court
was an English actress who enjoyed a lengthy, if largely unspectacular, career in motion pictures and television. In the early 1950s, Court discovered her true calling, acting in low-budget horror films. She appeared as the female half of a young couple who move into a haunted house in 1952's
Ghost Ship
. This led to her legendary turn in the 1954 classic
Devil Girl from Mars
— Court played the ingenue, not the title character, in case you were confused. She was again cast as the innocent young heroine in Hammer Films' seminal
The Curse of Frankenstein
in 1957, and a scream-screen star was born.
In the early 1960s, Court costarred in several films produced by Roger Corman's American International Pictures, based on the twisted works of Edgar Allan Poe:
The Premature Burial
, in which Court played the duplicitous lover of scholarly Ray Milland;
The Raven
, which paired Court with a callow Jack Nicholson (yes,
that
Jack Nicholson) opposite terror titans Boris Karloff, Vincent Price, and Peter Lorre; and
The Masque of the Red Death
, perhaps Corman's most memorably Poe-etic opus, and almost certainly the best picture in Court's filmography.
Although she wasn't, to be brutally frank, an accomplished thespian, Court was attractive in that stereotypically wan, upper-crust English sort of way. Her porcelain beauty — and impressive displays of quivering cleavage — lent a certain austere charm to the films in which she starred. Without question, her performances garnered her a minuscule yet dedicated coterie of devotees, as
this comprehensive fansite
demonstrates.
Some years ago, when I was writing reviews for
DVD Verdict
, I brandished my critical pencil at
an MGM double-feature disk showcasing

The Premature Burial

and

The Masque of the Red Death
. You can check out my review of these two Roger Corman masterworks (*ahem*)
here
.
In an odd touch of irony, just as I sat down to memorialize Ms. Court this afternoon,
this T-shirt arrived in my mailbox
, courtesy of the good folks at
Woot!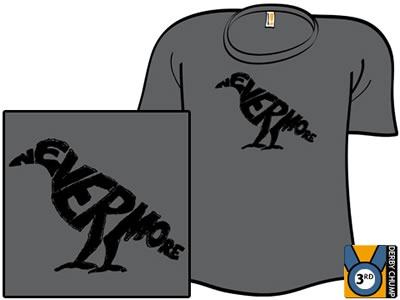 I can't imagine a more fitting tribute.
Labels: Celebritiana, Cinemania, Dead People Got No Reason to Live, Ripped From the Headlines, Sexiest People Alive