They've killed Kinch!
Ivan Dixon, the talented actor-director best known to teleholics of a certain age as Sgt. James "Kinch" Kinchloe, the technical wizard POW on
Hogan's Heroes
, has died at age 76.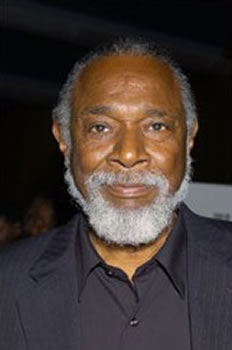 Dixon's Hollywood career began in the 1950s, when he served as Sidney Poitier's double and stand-in on such films as
The Defiant Ones
, and later as Poitier's costar in
Porgy and Bess
and
A Raisin in the Sun
. He became one of the first black actors to appear in a regular, nonstereotypical role on an American TV series when he was cast in
Hogan's Heroes
in 1965.
Dixon mostly set acting aside after leaving
Hogan's
at the end of the show's fifth season. (It remains one of TV's enduring mysteries that
Hogan's Heroes
stayed on the air for six years.) His two notable roles in post-Stalag 13 life were as Lonnie, the tough-yet-compassionate ex-con straw boss in the classic '70s film comedy
Car Wash
(
"I got to have more money, Mr. B.!"
), and as courageous Dr. Alan Drummond, a leader of the resistance movement in the Cold War drama
Amerika
.
Instead, Dixon refocused his career behind the camera, becoming one of TV's busiest directors throughout the '70s and '80s. He helmed the canvas chair for dozens of episodes of series television, most frequently on
The Rockford Files
(nine episodes) and
Magnum P.I.
(13 episodes), but also on shows as diverse as
The Waltons
,
The Greatest American Hero
, and
Quantum Leap
.
After retiring from directing, Dixon owned a radio station in Hawaii for a number of years. (I guess all those years as Colonel Hogan's communications guy finally paid off.)
His career honors included one Emmy nomination (Best Lead Actor in a Drama for the 1967
CBS Playhouse
presentation
The Final War of Olly Winter
), four NAACP Image Awards, the National Black Theatre Award, and the Black American Cinema Society's Paul Robeson Pioneer Award.
As résumés go, that's a pretty darned good one.
Labels: Celebritiana, Cinemania, Dead People Got No Reason to Live, Getting Racial Up In This Piece, Ripped From the Headlines, Teleholics Anonymous