Reason to Despise Modern Comics #25
Captain America, dead?
Yeah, right. They said that about Supergirl, too — 22 years ago.
Needless to say, when I made my weekly pilgrimage to my local comic shop, I did not waste four bucks on
Captain America
#25.
In my opinion, the Captain America who surrendered like a whipped puppy at the conclusion of Marvel's recent
Civil War
miniseries, and then was gunned down like a rabid dog in the just-released comic mentioned above, was not really Captain America anyway. I'd have shot that loser myself. The real Cap always went down fighting.
Instead, I prefer to imagine Marvel Comics Editor-in-Chief Joe Quesada dressed in a Red Skull costume, thus: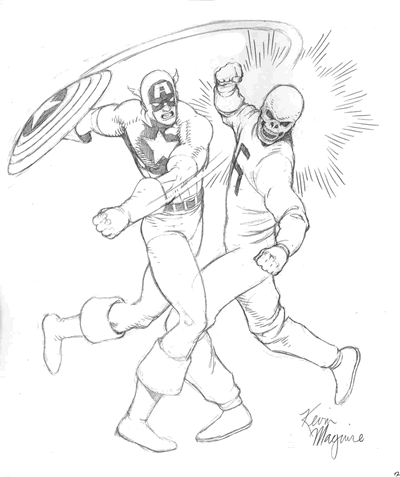 There will
always
be a Captain America.
There may not, however, always be a comic book industry, if they keep pulling stupid publicity stunts like this.
Labels: Dead People Got No Reason to Live, Random Acts of Patriotism, Ripped From the Headlines, Taking Umbrage