It's WonderCon weekend!
That's right, true believers:
WonderCon
, Northern California's premier comic book convention, invades San Francisco's Moscone Center for three days, beginning today at noon. I'll be making the scene both today and tomorrow — taking in the plethora of colorful sights and sounds; rubbing elbows with the near-famous, the wannabe famous, and the formerly famous; and most importantly, scoring a few new commissioned artworks for my collection.
In next week's Comic Art Friday, I'll deliver a full-blown report on my WonderCon experiences. But today, let me give you a sneak peek at one of the pieces I'll be bringing home.
When I spied the name of
Star Wars

artist Tom Hodges
on WonderCon's guest list a few weeks ago, I shot him a quick e-mail to see whether he planned to accept commissions during the con. Tom wrote back to affirm that he will, indeed, be drawing for the fans here in the Bay Area. He also noted that he had some time available before the con, and if I'd like to preorder some art, he'd complete it at home and bring it to WonderCon with him.
Never one to pass up a golden opportunity, I seized the chance to ask Tom to add a new chapter to my ever-growing Common Elements gallery. Earlier this week, Tom sent me this scan of his spectacular creation, teaming
Mike Mignola
's signature hero,
Hellboy
, with Marvel's feline Defender,
Hellcat
.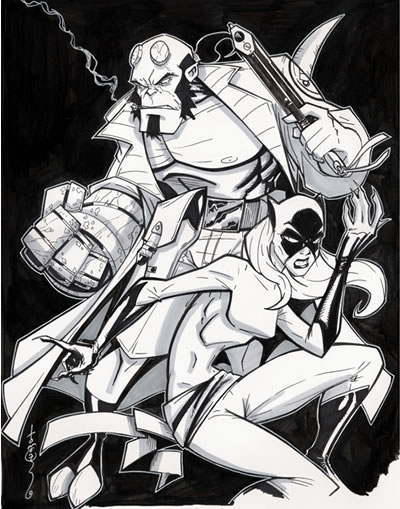 My first exposure to Mike Mignola's work actually wasn't connected to either Hellboy, the character for which he's best known, or even to comics at all. Several years ago, Mignola worked as lead character designer on the Disney animated film
Atlantis: The Lost Empire
. When I saw the movie, I was curious about the design style, which struck me as decidedly un-Disney. Upon further investigation, I was chagrined to discover that the artist in question (a Bay Area native, no less) had risen to superstardom during my most recent hiatus from the comics scene, hence my embarrassing lack of familiarity. (Much later, I remembered that Mignola had illustrated a few issues of Power Man and Iron Fist for Marvel in the early '80s, albeit in a markedly different style from his
Hellboy
work.)
Tom Hodges's work shows a striking amount of Mignola influence, so I knew that he'd be the perfect artist (since, well, I can't afford Mike Mignola) to draw my Hellboy-centric Common Elements piece. As you can see, my instincts were spot-on.
In contrast to Hellboy, Hellcat is a heroine whose history I know quite well. In her everyday identity of Patsy Walker, Hellcat has amassed one of the most convoluted backstories in all of comics. When Patsy first showed up way back in 1944, she wasn't a superhero — she was the star of an entire line of teenage romance and humor comics. think of her as a kind of female version of Archie. The popular Patsy continued her youthful adventures for more than two decades in a number of titles published by Timely Comics, the company that would eventually morph into Marvel in the early 1960s.
Patsy made her first appearance in a superhero story in — coincidentally enough — the first comic book I ever owned:
Fantastic Four Annual
#3. By the early '70s, she was popping up frequently as the lab assistant of Dr. Hank McCoy, better known as the Beast of the original X-Men. Before long, Patsy adopted the costume formerly worn by another Marvel heroine, the Cat (who by this time had transformed into the were-woman Tigra), and gave herself the code name Hellcat.
Patsy's finest exploits as a crimefighter came as a member of the Defenders, my favorite superhero team of the '70s. Originally a showcase for Marvel's three most iconoclastic headliners — Doctor Strange, the Sub-Mariner, and the Hulk — over time the Defenders became populated by minor-league heroes who didn't own their own titles — notably Nighthawk, the Valkyrie, and our girl Hellcat.
Both Nighthawk and Valkyrie have previously headlined entries in my Common Elements series. Here, Nighthawk teams with Green Lantern Kyle Rayner in a moody scene by horror specialist
Kyle Hotz
.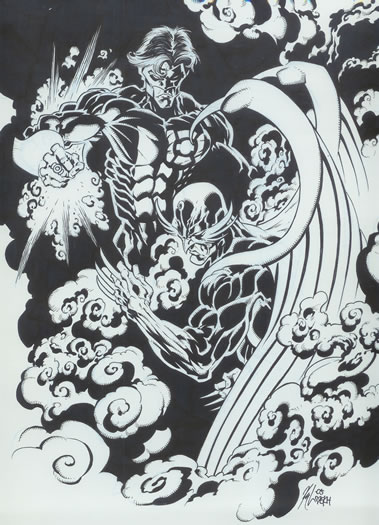 Meanwhile, Valkyrie joins the X-Men's Nightcrawler, in this gorgeous pencil rendering by
Dave Ross
.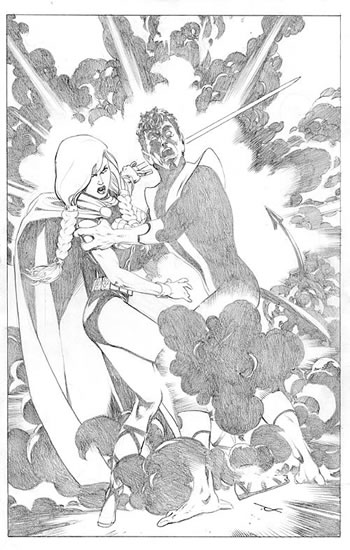 Patsy and her new friend Hellboy will come home with me from WonderCon, courtesy of the talented Tom Hodges. I'm looking forward to meeting Tom in person later today.
And that's your Comic Art Friday. I'm off to the con!
Labels: Comic Art Friday, Disneyana, My Home Town