Extract of Almond: a few drops more
Previously on Comic Art Friday
, we looked at a pair of before-and-after examples of inking commissions undertaken by one of my favorite inkers to work with,
Bob Almond
. Today, we'll examine another set of Bob's embellishing projects.
I have long admired the work of artist
Chad Spilker
, one of the best "good girl" pinup stylists in the business. Chad's busy schedule of late hasn't afforded him time to take on commission projects, so I hadn't been able to add a piece of his art to my gallery. That's why I was elated when he offered up this rough sketch of one of my favorite heroines, Mary Marvel. A preliminary test for a commission Chad drew a few years ago, this unfinished piece reflects the smooth linework and playful personality that characterizes Chad's work.
Bob Almond has proven, in previous commission projects, his uncanny ability to transform a raw sketch into a fully realized artwork. I asked Bob to photocopy Chad's sketch onto Bristol board (the heavy art paper generally used for comic book art), ink it, and add a basic background design that did not incorporate lightning. (Everybody draws Mary with lightning.) Bob chose a dramatic starfield that sets off the primary figure perfectly.
You can read Bob's own comments on this project here.
I enjoy the work of Ron Adrian, a talented artist recently named the new penciler on DC Comics'
The Flash: Fastest Man Alive
, after stints on such books as
Birds of Prey
and
Supergirl
. This Supergirl drawing captures the finely detailed linework for which Ron is acclaimed.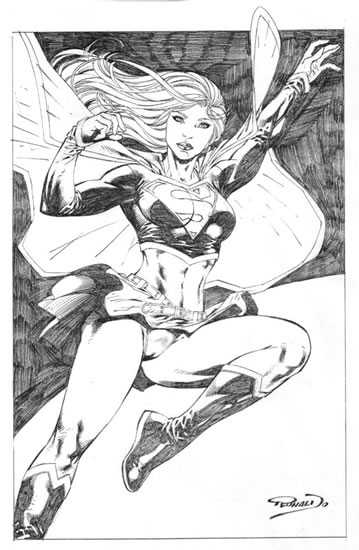 This was the second Adrian commission I'd asked Bob Almond to ink. Previously, he worked his magic on
a piece from my Common Elements series, featuring Adam Warlock and the Scarlet Witch
. Bob did such phenomenal work on that project that I knew immediately that I wanted him to take on my next Adrian as well. Bob really brings out the power and grace of Ron's art in this piece.
You'll find Bob's notes about this project here.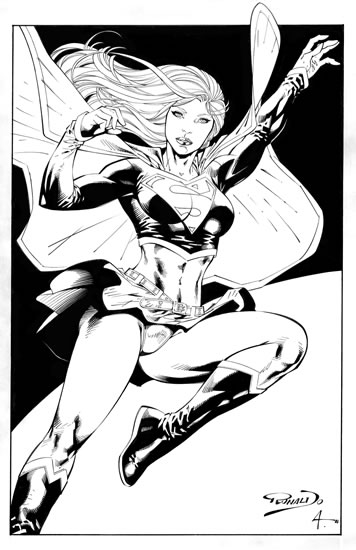 So, the next time someone suggests to you that all a comic book inker does is trace the original pencils, kindly kick that person in the hindquarters. Then give him or her a link to these "Almond joys."
And that,
mes amis
, is your Comic Art Friday.
Labels: Comic Art Friday