Extract of Almond
As foreshadowed last week, today's Comic Art Friday spotlights the talents of veteran inker
Bob Almond
. Bob recently completed a series of inking commissions for me, the results of which you'll see over the next couple of Comic Art Fridays.
Although I've showcased Bob's inking on other occasions, I don't know that I've written much about Bob himself. A lifelong comics fanatic, Bob studied art at the
University of Massachusetts Dartmouth
. He broke into comics professionally in 1992, as the regular inker (over the pencils of such artists as Angel Medina, Tom Grindberg, and Patrick Olliffe) on the Marvel Comics series
Warlock and the Infinity Watch
.
Bob went on to work on numerous other projects for Marvel, but he's most closely associated with
Black Panther
, on which he teamed with writer Christopher J. Priest and penciler Sal Velluto for a memorable three-year run. As a Black Panther fan, I consider the Priest/Velluto/Almond
Panther
one of the two greatest sequences in the character's storied history. The other? Writer Don McGregor's
Jungle Action
series in the early 1970s, featuring art by pencilers Billy Graham (no, not the evangelist — one of the first prominent African American artists in mainstream comics) and Rich Buckler, and inkers Klaus Janson and Bob McLeod.
Bob Almond later partnered with Sal Velluto on other titles, including DC Comics'
Justice Society of America
and
Captain Gravity and the Power of the Vril
for Penny-Farthing Press. (The two are so closely associated that many fans refer to them as an entity, "Sal 'n' Bob.") At the moment, Bob's regular gig is inking the pencils of Kevin West on the Wildstorm Comics series
Nightmare on Elm Street
, based on the popular Freddy Kreuger films.
Because of Bob's fond association with the Black Panther, he's always interested in inking new images of the Wakandan king. When I acquired this striking pencil drawing, commissioned from longtime
Green Lantern
artist Darryl Banks, Bob immediately expressed an interest in finishing the piece. How could I say no?
As you see, Bob added dimension and drama to Darryl's art with solid shadows and a bold framing element.
Check out Bob's own comments on this project here.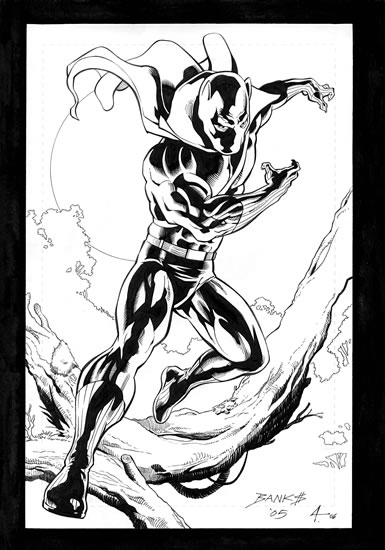 One of the qualities I appreciate most about Bob as an inker is his amazing ability to adapt to the individual style of any penciler. As seen in the drawing above, Darryl Banks uses a bold, powerful pencil line. In stark contrast to Darryl's approach is that of Michael Dooney, a specialist in "good girl" or female pinup art. Michael's linework is fine and often quite delicate, as in this drawing of the Amalgam Comics character Amazon — a melding of DC's Wonder Woman and Marvel's Storm.
Notice how Bob Almond takes a lighter, more subtle approach when inking Dooney as opposed to Banks. Also evident here is one of Bob's trademarks — the sophisticated use of a patterned film called Zip-A-Tone to create unique effects that would be impossible to replicate by hand, such as the reflective sheen in Amazon's cape.
Bob shares his technical perspective here.
We'll look at more before-and-after examples of Almond's art next week. For now, that's your Comic Art Friday.
Labels: Comic Art Friday