Seeing the light at last
I was totally bummed to learn of the death yesterday of
guitarist Jeff Healey
.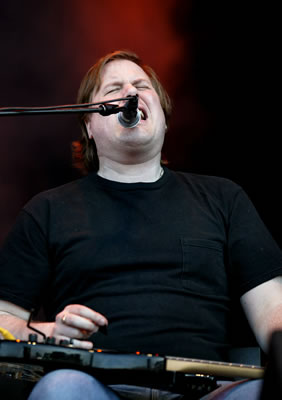 Blinded in infancy by a rare form of retinal cancer, Healey battled the deadly disease throughout his 41 years of life.
During that time, he also made some spectacular music. His 1988 album,
See the Light
, combined Healey's unique guitar stylings — he played with the instrument lying flat across his lap, and strummed it sideways — with his raw, blues-edged vocals.
Viewers of late-night cable remember Healey's appearance in the B-movie classic,
Road House
, in which the hard-rocking musician was featured as Cody, the leader of the title establishment's house band. Healey's musical numbers were the best thing about that improbable, yet oddly compelling, little piece of cinema magic... unless you're into Patrick Swayze's sweat-sheened pecs. But that's not how I roll.
In recent years, Healey had gravitated toward jazz, releasing a string of well-received albums in that genre. (Uncle Swan's favorite: the 2006 release
It's Tight Like That
.) His latest recording, however, reportedly marked a return to his blues-rock roots.
Mess of Blues
will be released next month, and you've gotta know I'll pick up a copy.
Jeff Healey leaves behind a wife, two children, and a legion of fans, among whom I'm proud to be counted.
Rest in peace, blind man.
Labels: Celebritiana, Dead People Got No Reason to Live, Ripped From the Headlines, Soundtrack of My Life