Spitzer? I didn't even touch her!
New York Governor Eliot Spitzer just learned
the danger of keeping an escort service on speed dial
.
Spitzer publicly apologized today — albeit without specificity — for his involvement with a high-ticket prostitution ring targeted in a federal investigation. According to news reports, a wiretapped conversation revealed Spitzer soliciting the services of a professional companion in the employ of the ironically named Emperors Club VIP. The assignation allegedly was arranged in advance of the Governor's recent trip to the Renaissance Mayflower Hotel (possibly related to
the notorious madam of similar name?
) in Washington, D.C.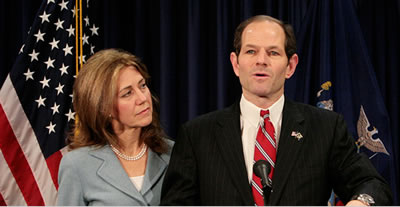 Can you imagine how this discovery must have played out?
I can just see some low-level FBI flunky sitting in a van wearing a Brooks Brothers suit and a set of headphones, nursing a Diet Pepsi and a bag of Cheetos, listening to the calls coming into the escort service.
Suddenly, his ears perk up.
"That sounds like..."
He listens further.
"It is! That's Governor Spitzer! My career is totally made!"
And Day-Glo orange Cheeto dust goes flying everywhere.
Now here's the part that baffles me. According to the reports, Emperors Club VIP charges as much as $5,500 per hour for the services of its (ahem) staff. Call me naïve ("You're naïve!"), but seriously — what "service" could anyone possibly provide in an hour that's worth $5,500? That's practically a down payment on a house, for crying out loud.
Although, I suppose it's as that noted connoisseur of the world's oldest profession, Charlie Sheen, once remarked:
"I don't pay 'em for sex — I pay 'em to go away afterward."
Unfortunately for Mr. Spitzer, he didn't pay 'em enough to use a secure phone line.
One last touch of irony: For his costly tryst, Spitzer appears to have registered at the Mayflower under the pseudonym "George Fox." Students of religious history will recall that
George Fox
was the founder of the Society of Friends, the sect more familiarly known as Quakers. [You can insert your own punch line here.]
Labels: Aimless Riffing, Celebritiana, Ripped From the Headlines, Sexiest People Alive, The Body Politic