Don't worry. Pete Happy.
Pedro Feliz
, the San Francisco Giants' starting third baseman for the past four seasons, has signed
a two-year free agent contract with the Philadelphia Phillies
.
Oh, well.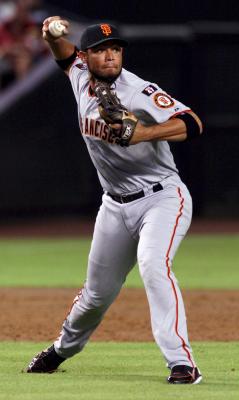 Reportedly, Pedro — nicknamed "Pete Happy" by Spanish-literate Giants fans — leaves the Bay Area a mite miffed that the G-Men didn't pursue his re-signing with greater alacrity.
Here's the deal, Pedro: Take a pitch once in a while.
Although Feliz matured into a nifty fielder at third base, and displayed not-infrequent flashes of power at the plate — he hit 20 or more home runs in each of the past four seasons — he never developed a shred of discipline as a hitter.
In the last four campaigns, Pedro posted batting averages of .276, .250, .244, and .253 — mediocre numbers at best. Even more telling, his on-base percentages over that period were .305, .295, .281, and .290, which tells you Feliz rarely gets on base without getting a hit. The word "walk" simply isn't in the guy's vocabulary. Last season, Pedro walked just 29 times in 557 official at-bats. You could walk 29 times a season just standing in the batter's box with your stick on your shoulder.
The Giants — and Giants fans — will miss Pedro's defense at the hot corner and his 80 or so RBI per year. They won't miss watching him ground out on bad pitches at which he never should have swung in the first place, thereby costing the team innumerable scoring opportunities.
Vaya con Dios
, Pete Happy.
Labels: I Love the Giants, Ripped From the Headlines, Sports Bar