Go Bair, if you dare
Today's Comic Art Friday is dedicated to Steve Ditko, the artist creator of your friendly neighborhood Spider-Man, who is celebrating his 80th birthday today. I spent the first 90 minutes of Mr. Ditko's birthday watching
Spider-Man 3
on DVD. Unfortunately, it didn't get any better since I saw it in the theater a few months back. Pity.
Although I haven't seen the official numbers yet, I'm hearing through the comic art collectors' grapevine that last Sunday's Wonder Woman Day was a smashing success.

I'm told that the art auctions raked in somewhere in the neighborhood of $40,000 to support shelters for women fleeing domestic violence. I call that a good thing.
Due to limited resources, I was only able to make small bids on a couple of the offered items. To be honest, I looked over the selections, then bid on a few that I liked, but which I didn't think would draw a lot of attention. I also put in a modest bid on one artwork I was confident would sell for a much higher price.
Now here's the irony: I didn't win any of the auctions in which I thought my bid might actually be competitive. I did, however, score the one item I didn't think I stood any realistic chance of winning — this incredible pinup by
Michael Bair
.
Bair is best known in comic book circles as an inker, especially in partnership with penciler Rags Morales on such high-profile projects as DC's
Identity Crisis
. Like most of the best inkers, however, Mike's a talented artist in general, as his work here demonstrates. His depiction of Diana captures the sense of quiet power — that "still waters run deep" quality — that too many artists miss while trying to make her look like a
Penthouse
centerfold. Bair's Wonder Woman is unquestionably beautiful, but also strong, resolute, and ever so slightly perturbed — exactly the way I envision the character.
I first met Mike a few years ago at one of the local comics conventions (I can't recall whether it was a WonderCon or a Super-Con). We were introduced by his good friend and frequent collaborator,
the artist known as Buzz
. I saw Bair and Buzz most recently at Super-Con in June, when they both participated in a panel featuring several of the greatest inkers in comics history.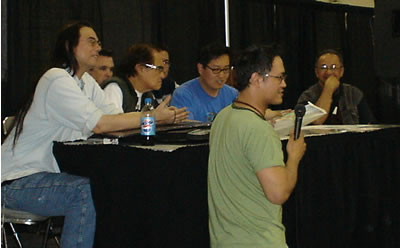 That's Bair in the white shirt at far left, and Buzz standing in the green shirt. Also pictured, to Bair's left: Bill Morrison, Tony DeZuniga, Danny Bulanadi, Frank Cho, and Ernie Chan. (Alex Niño was seated on Cho's left, but you can't see him in this shot.)
Since that first encounter, I've drooled over Mike's pages at every opportunity. One of these days, I'd love to have him ink my Rags Morales Common Elements commission, featuring Lady Blackhawk and the Falcon.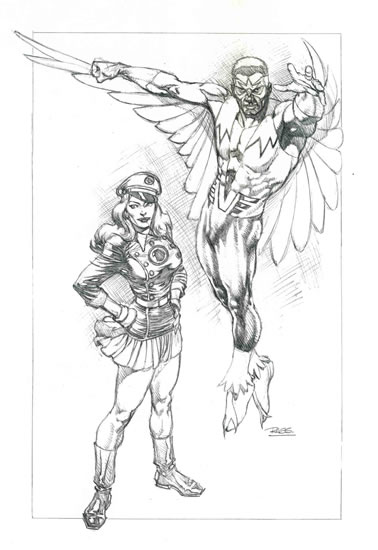 Wouldn't that look awesome finished in Michael Bair inks? You know it would. A couple of other inkers have requested this assignment, but in recognition of his unparalleled synergy with Rags, I'm holding out for Bair. Mike rarely takes on commission projects... but I can dream, can't I?
And that's your Comic Art Friday.
Labels: Comic Art Friday