Wonder Woman Day, redux!
Two days from today — Sunday, October 28 — is the second annual
Wonder Woman Day
.

In case you missed jotting this auspicious occasion on your calendar, the last Sunday in October each year has been officially declared
Wonder Woman Day
by the cities of Portland, Oregon and Flemington, New Jersey. This event uses the celebration of everyone's favorite Amazon to focus awareness on, and to raise money for, domestic violence shelters in the two sponsor cities.
Artists from throughout the comics industry donate original Wonder Woman art, which is auctioned off to support these worthwhile community organizations. You can view this year's incredible array of offerings at
the official Wonder Woman Day site
.
One of the items up for bid is
a terrific pinup featuring Wonder Woman alongside Superman
, drawn by the phenomenal
Al Rio
. I was fortunate enough some time back to be able to purchase Al's preliminary drawing of the Princess of Themyscira for my own collection. Al's sketch is so tightly rendered that it's almost indistinguishable from
his final version
(sans the superfluous Man of Steel, and who cares about him anyway?).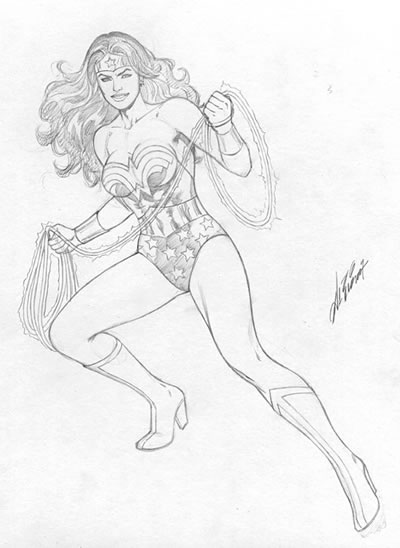 This piece is currently awaiting embellishment by one of the comic industry's great inking talents,
Bob Almond
. When Bob's done doing that voodoo that he do so well, I'll display the finished version on a future Comic Art Friday.
Another one of my favorite artists,
Michael Dooney
, created this spectacular Wonder Woman pinup you see below. I was being completely sincere when I told Mike this might be one of the best Wonder Woman drawings, not just in my not-inconsiderable collection, but in all of existence. (Mike thinks it's not quite up to the level of
Adam Hughes
, who more or less set the standard for Wonder Woman art during his three-year run creating the covers of her comic book, but I still dig it anyway. I dig Adam's stuff, too.)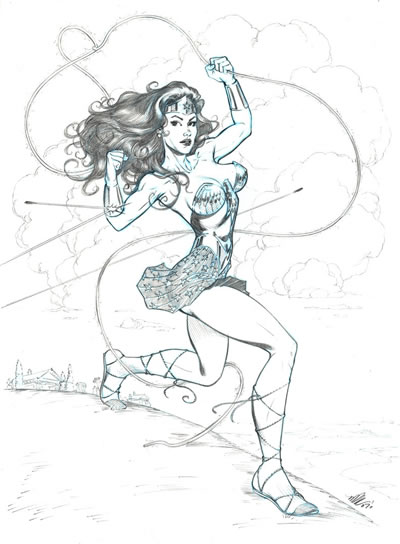 Dooney's style incorporates influences from several of the classic pinup artists, including Alberto Vargas, Gil Elvgren, and George Petty. Mike was very receptive to my costume suggestions on this particular commission assignment, all of which he executed beautifully. I've always been partial to Diana's original costume with its golden eagle bustier, and I love the star-spangled skirt and Grecian sandals Dooney added here, at my request.
So, remember: October is both
National Breast Cancer Awareness Month
and
National Domestic Violence Awareness Month
, and Sunday, October 28 is
Wonder Woman Day
. If you're so inclined, pop over to
the official site
and check out all of the Wonder-ful art that's up for auction. You might even see something you'll want to bid on yourself. It's in service of a cause that Wonder Woman herself would most certainly approve.
After all, shouldn't every day be
Wonder Woman Day
?
And that's your Comic Art Friday.
Labels: Breast Cancer Awareness, Comic Art Friday