Brett Somers is so dead you couldn't revive her with a [blank]
Game show fans and TV nostalgia addicts everywhere are mourning the passing of
longtime

Match Game

panelist Brett Somers
, who died on Saturday at the age of 83.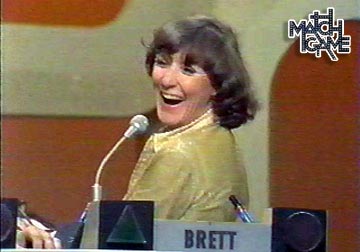 The sassy Somers's death closely follows that of her frequent foil,
Charles Nelson Reilly
, who joined previously expired
Match Game
host Gene Rayburn in the hereafter last May.
You can always learn something by reading celebrity obituaries. For example, I knew that Somers was married to future
The Odd Couple
and
Quincy, M.E.
star Jack Klugman in 1953, and that they went their separate ways after 20-odd years of wedded bliss (or something) in the early '70s. What I didn't know until today was that, despite their parting before disco was in fashion, Klugman and the tart-tongued comedienne were never legally divorced.
A third of a century is a long time to stay married to someone you don't plan on living with ever again.
Labels: Celebritiana, Dead People Got No Reason to Live, Ripped From the Headlines, Teleholics Anonymous