How's that for a topper?
What?
Charles Nelson Reilly is

dead

?
I didn't even know that he was sick.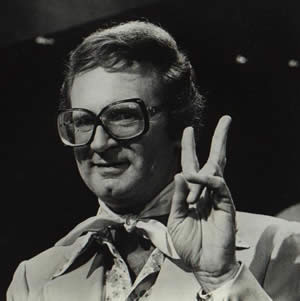 What?
Charles Nelson Reilly was
gay
? I didn't even know... well, yeah, I did, too. (Didn't we all?)
My earliest memories of Sir Charles, like those of many of my generation, date back to the '60s sitcom
The Ghost and Mrs. Muir
, wherein Reilly played fussbudgety Claymore Gregg, the heir and landlord, respectively, to the series' two title characters. And of course, like many addicted to Saturday morning TV in the '70s, I recall Reilly eking out a living in embarrassing kidvid dreck like
Lidsville
(which, though beneath Reilly's considerable talents, was actually enjoyable) and
Uncle Croc's Block
(the less said about which, the better).
But mostly, I remember Charles for his seemingly unlimited witty ripostes as a game show panelist, verbally sparring with Gene Rayburn and Brett Somers on
Match Game
, or trading double entendres with the likes of Rose Marie on
Hollywood Squares
.
Which, when one thinks about it, is rather a shame, because not many people who laughed at the flamboyant bon vivant in the Coke-bottle glasses and Day-Glo ascot realized that the guy was a Tony Award-winning stage actor (for
How to Succeed in Business Without Really Trying
, 1962) or a Tony-nominated theatrical director (for
The Gin Game
, 1997). All of which, he was.
Your fans will miss you, Chuck. Count me among them.
Labels: Celebritiana, Dead People Got No Reason to Live, Ripped From the Headlines, Teleholics Anonymous