"O zephyr winds which blow on high..."
For the past week, I've been as giddy as a puppy turned loose in the Milk-Bone factory.
Why? Friend reader, I'm telling you why:
The Secrets of Isis: The Complete Series
landed on my doorstep via eBay, by way of UPS. I've enjoyed a fun-fulled half-hour respite each day, screening an episode of this fondly recalled Saturday morning series from those wild and crazy 1970s.
And you know what? It's all been a stone gas, honey.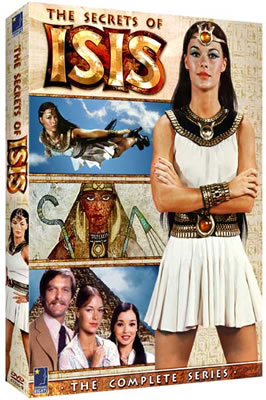 I'm pleasantly surprised at how well the show holds up. I had feared that after three decades,
Isis
would be unwatchable. It's terribly dated, sure, both in its production values (which, let's face it, were bargain-basement cheesy even in the mid-'70s) and in its cultural approach (there's a lot of "battle of the sexes" material in the scripts that can only be described as embarrassing today), but the stories are engaging and fun, and what the performers lack in acting ability, they make up threefold in enthusiasm.
Plus, the folks at BCI did a bang-up job of restoring the prints, so that these 30-year-old episodes look as crisp and clean as they did when first aired. The cast and crew interviews are also nicely done. It's unfortunate that JoAnna Cameron declined to participate (as she also declined an interview for the excellent
Isis
retrospective that appeared in the most recent
Back Issue
magazine), but there are some nice reminiscences from the other key performers, producers, and writers. BCI also included several other enjoyable extras, including a commentary track, photo galleries, and scripts for all 22
Isis
episodes.
Knowing that this DVD package was nearing release, I commissioned a couple of new additions to my Isis art gallery. First up is this lovely panel featuring Isis in flight, drawn by animator and illustrator Dan Veesenmeyer.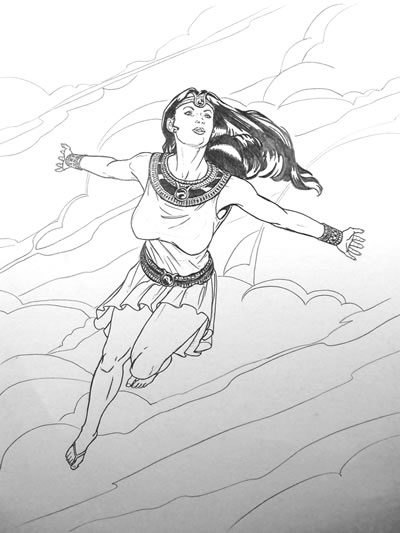 I love the lightness and movement in Dan's figure drawing here. I also like the fact that he dispensed with the clunky boots Isis wore in both the TV series and its DC Comics counterpart, and provided her with more character-appropriate footwear. (I'm relatively certain that high heels had not yet reached the height of fashion in ancient Egypt.)
Next comes this traditionally styled portrait by one of my favorite pinup artists, Mitch Foust.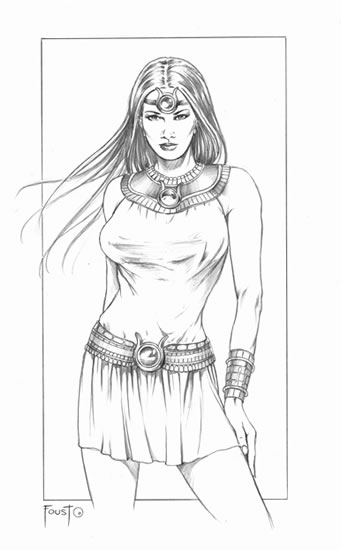 I own several of Mitch's artworks, but this was the first I commissioned from him directly. Mitch's eye for costuming detail is impeccable, and I always admire the gentle grace of his linework.
Our third peek at our elemental heroine comes to us courtesy of artist Jay Fife. Jay created this piece for his own amusement, and I have long admired it in his online art gallery at Comic Art Fans. When I discovered that it was for sale by his art representative, I couldn't resist bringing it home.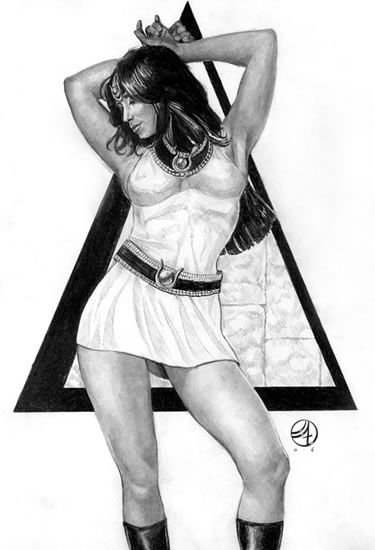 Jay's tonal pencils derive much more from portraiture than from comic book art, so this piece adds a distinctive fine art quality to my Isis tribute.
I'm told that JoAnna Cameron, who retired from acting not long after her Isis adventures, is now a successful executive in the hospitality industry in Hawaii. I wonder whether she ever catches a strong trade wind and utters her trademark command:
"O zephyr winds which blow on high, lift me now so I can fly!"
I'd pay good money to see that.
And that's your Comic Art Friday.
Labels: Comic Art Friday, Reminiscing, Teleholics Anonymous