They tried to make me use a condom; I said, "No, no, no"
Easily the worst idea I've heard this month:
English pop star Amy Winehouse and her junkie husband are desperately trying to conceive a baby.
Call
Parenting Magazine
. I think I've found the cover girl for their Mother's Day issue next year.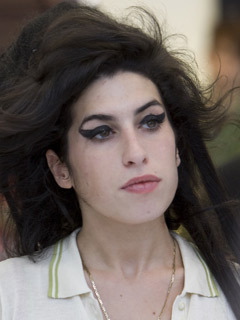 In case your copy of
Billboard
got detoured in the mail, Winehouse (a
namephreak
of the first order — RIP, Herb Caen) is the drugged-out, booze-addled Goth songstress best known in this country for her chart-topping hit "Rehab," the lyrics of which begin:
They tried to make me go to rehab
I said, "No, no, no."
The British tabloid
News of the World
last week published photos of Winehouse and her partner in addiction, hubby Blake Fielder-Civil,
lounging on a beach in the Caribbean sporting fresh heroin needle tracks
, as well as bruises from
a recent, much-publicized domestic brawl
, prior to which Amy was admittedly "cutting herself and about to do drugs with a call girl."
Aren't there enough children being born into corrosive home environments without these two losers contributing to the epidemic? I'm not in favor of involuntary sterilization, generally speaking, but Amy and Blake make a pretty fair argument for the practice.
A friend of the couple — presumably one who was sober and straight at the time of the interview — told the tabloid, "[Amy] really wants a baby and thinks it will help get her life back on track."
That must be a typo. I'm sure she said "on crack."
Labels: Celebritiana, Ripped From the Headlines, Soundtrack of My Life, Taking Umbrage