So long, Shooter
"Shocked" is perhaps one of the most overused words in the English language. It is, however, the word that most accurately describes my emotional reaction to hearing the news that
Rod Beck
, the Giants' star relief pitcher throughout most of the 1990s,
died yesterday at the age of 38
.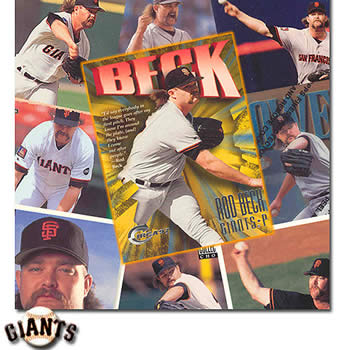 The cause of Beck's death is unknown at this writing. Although it's too early to speculate, it's been widely reported that the former relief ace has battled drug addiction in recent years.
Beck was one of my favorite Giants in my 30-plus years as a San Francisco partisan. "Shooter," as Beck was known to his teammates, was one of the great characters of the game. He was as unlikely a professional athlete as I've ever seen — a mullet-wearing, heavyset fellow sporting a shaggy Fu Manchu 'stache, he smoked like the proverbial chimney and looked as though he consumed Quarter Pounders and Heineken for breakfast. Still, he electrified Candlestick Park whenever he took the mound in the late innings. Beck didn't throw the hardest fastball in the majors, but he combined a deceptively wild delivery motion with an intimidating on-field demeanor to become one of the game's most feared closers.
Although he's most frequently remembered as a Giant due to his seven-year tenure in San Francisco, Beck actually notched his highest save total (51) in 1998 as a Chicago Cub. With the Giants, Beck made three National League All-Star teams and finished eighth in the voting for the 1994 Cy Young Award. He posted six consecutive seasons (1992-98) in which he recorded 28 or more saves. His career total of 286 saves ranks 22nd all-time.
Beck garnered some news coverage a couple of years ago when he attempted to make a comeback with the Cubs' Triple-A affiliate in Iowa. During that season, he lived in an RV in the parking lot of the stadium, and made his movable domicile a hangout for fellow players.
During his years in San Francisco, Beck and his wife were active in the community, lending their time and celebrity to a host of charitable events, especially in the area of pediatric AIDS. He always seemed as affable off the field as he was awe-inspiring on it.
Thirty-eight is far, far too young.
My sincere condolences go out to Beck's family, friends, and former teammates.
Labels: Celebritiana, Dead People Got No Reason to Live, I Love the Giants, Ripped From the Headlines, Sports Bar