65 thumbs, way up
The entire SSTOL crew sends a laurel and hearty handshake to
the dean of American film critics, Roger Ebert
, on the occasion of his 65th birthday.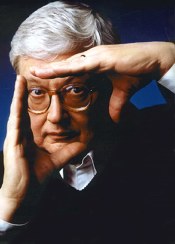 As most of you know, Mr. Ebert has been struggling with serious health challenges in recent times. Complications from a series of surgeries to combat salivary gland cancer have robbed the Pulitzer-winning writer of his ability to speak, forcing him to temporarily (we hope) relinquish his television duties opposite fellow critic Richard Roeper to a parade of guest reviewers.
Recently, Ebert returned to the public eye at his annual film festival, still unable to speak but flashing his trademark "thumbs up" to his fans. He's also back at the keyboard writing film reviews, as only he can.
Were I to list the writers who have most inspired and influenced me, Roger Ebert would occupy a place near the top of said list, if not indeed the very pinnacle. I don't always agree with Roger's opinions — heck, I don't always agree with my own — but I never question his scholarship, his communication skills, or his boundless passion for the medium of cinema.
Happy birthday, Uncle Roger. Be well.
Labels: Celebritiana, Cinemania, Hero of the Day