A day in the life
It was 40 years ago today
Sgt. Pepper taught the band to play.
I refer, of course, to the fact that on June 1, 1967, the Beatles album
Sgt. Pepper's Lonely Hearts Club Band
was released in the United Kingdom (the record hit American shelves the following day). Popular music would never be the same again. In fact, it's impossible to imagine what the last 40 years of popular music would have sounded like, without the sonic and thematic innovations introduced via
Sgt. Pepper
.
Not that this has anything at all to do with Comic Art Friday.
Except that when I think of the Beatles, I think of Ringo. Comic artist
Mike "Ringo!" Wieringo
, that is, who drew this charming portrait of Superman and Wonder Woman sharing a tender moment.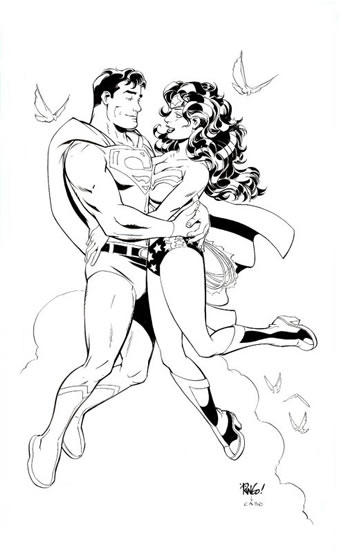 They don't call me the Sultan of Segue for nothing.
This weekend, comic fans from throughout northern California will descend on the San Jose Convention Center for
Super-Con
, the third of the Bay Area's major annual comic fandom events. (WonderCon and APE — the Alternative Press Expo, which focuses mostly on independent, small press comics — were held in late winter and early spring, respectively.) In the past couple of years, Super-Con has grown from a relatively small gathering to a mega-event, prompting a move from the con's former home in the East Bay to the hub of Silicon Valley. The lineup of industry guests has expanded also, with this year's headliners including comic legends Jim Lee, Frank Cho, and Terry Dodson.
I've connected in advance with a couple of my favorite artists, who will be bringing newly completed commission pieces to the con for me.
Steve Mannion
, whose vintage-style pinup (seen below) is the pinnacle of my Mary Marvel gallery, is working on a new addition to my Supergirl theme...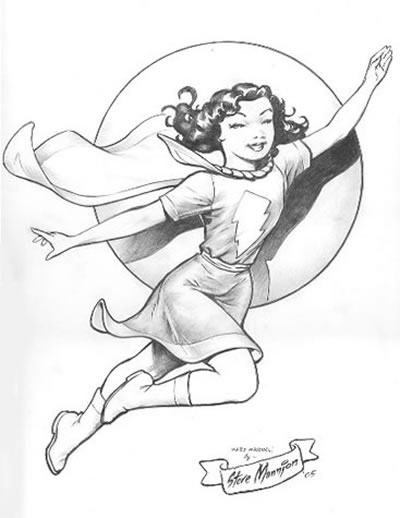 ...and
the artist known as Buzz
, of whose exquisitely brush-inked work I can never get enough, is creating a Storm piece to accompany this Black Panther drawing he did for me in advance of last year's Super-Con.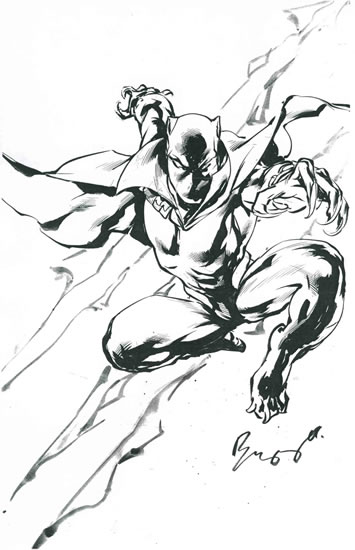 Speaking of Storm, here's a lovely rendition of the Wizardress of Weather, recently fashioned by another favorite artist, "good girl" specialist Michael McDaniel.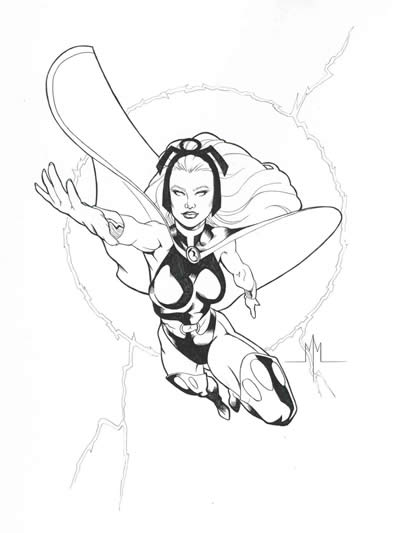 Check back here in seven days, to see the new art I pick up at Super-Con this weekend.
And that's your Comic Art Friday. Remember: I get by with a little help from my friends. (That means you.)
Labels: Comic Art Friday, Soundtrack of My Life