Dark and stormy Knights
Comic Art Friday bids a happy birthday to
Gilmore Girls
star
Lauren Graham
, who turns 40 today. Ms. Graham would make a pretty decent Wonder Woman, assuming that abortive film project ever gets off the ground.
Today's featured artwork is yet another installment in my Common Elements series. The linking thread in this Common Elements drawing is a shade more obvious than the last few we've displayed. Artist MC Wyman, that Marvel Comics stalwart of the mid-'90s, teams a dynamic duo of Marvel heroes:
Dane Whitman, the Black Knight
, and pistol-packing super-detective
Misty Knight
. ("Black Knights"... get it? I crack me up.)
The Black Knight has been a second-tier player in the Marvel Universe for almost as long as I've been reading comics. He made his first appearance in
Avengers
#47, way back in 1967, and was featured on the cover of the following issue. The Knight was one of the few super-types of that era for whom having the word "Black" in his handle did not constitute a statement of racial identity.
Since the '60s, Dane has shown up fairly regularly throughout the Marvel line, usually in association with the Avengers — although most recently he could be seen in the pages of
New Excalibur
, hanging out with the United Kingdom's favorite squad of mutant heroes.
Misty Knight — she of the bionic arm and ever-changing 'do — has long been a personal favorite of mine, and it's a real treat to enjoy her adventures in the current series
Heroes for Hire
. One of the first African American heroines in comics, Misty was originally intended as a comic book version of the type of streetwise character played by actress
Pam Grier
in such blaxploitation cinema classics as
Foxy Brown
,
Coffy
, and
Friday Foster
.
For years Misty and her business partner, Colleen Wing (together they owned the Knightwing Restorations detective agency), could often be seen battling evildoers alongside Luke Cage (in his Hero for Hire / Power Man days) and Iron Fist (with whom Misty enjoyed a tumultuous romantic relationship) under the code name Daughters of the Dragon. Now that Knightwing has morphed into Heroes for Hire, Inc., Misty and Colleen lead a team that includes such rebels as Felicia Hardy, aka the Black Cat, and Shang-Chi, Master of Kung Fu.
One of the few published artworks in my collection is Misty's character model sheet from the
Official Handbook of the Marvel Universe, Master Edition
. Pencil artist Keith Pollard and inker Joe Rubinstein created hundreds of these model sheets, but I'm especially pleased to own this one.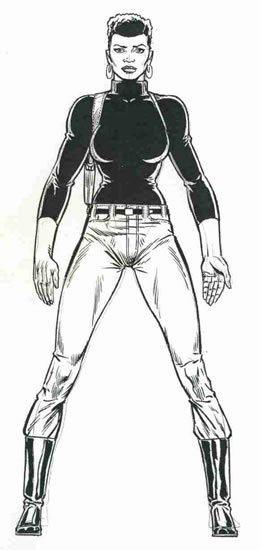 And that's your Comic Art Friday.
Labels: Celebritiana, Comic Art Friday