April showers (part one of four)
I'm declaring April a Comic Art Friday theme month. Why? Because I can!
BWAAAAHAAAHAAA!
We're going to spend today and each of the next three Comic Art Fridays looking at four strikingly different representations of one of my favorite heroines:
Ororo Munroe, the weather-manipulating X-Man code-named Storm
, now also the queen consort of
King T'Challa of Wakanda, better known as the Black Panther
.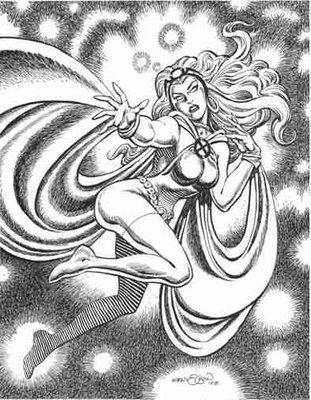 The first in our quartet of Storms comes from the pen of a living legend in the comics industry:
Ernie Chan
. The amazing Chan burst onto the scene in the early 1970s, following his arrival from the Philippines, one of a host of talented artists from that island nation who made their collective mark in American comics during that period.
Chan is best remembered for his powerful work on Marvel's myriad
Conan the Barbarian
titles, first as an inker over the great John Buscema, then later as a penciler and cover artist as well. Prolific throughout his long career, Chan's distinctive and detailed art graced literally hundreds of comics, from horror stories (DC's
Ghosts
and
House of Secrets
) and superhero fare (
Wonder Woman
,
Justice League of America
, and the
Batman
feature in
Detective Comics
for DC;
The Incredible Hulk
and
Power Man and Iron Fist
for Marvel) to martial arts action (
Master of Kung Fu
) and his beloved barbarians (in addition to a plethora of Conan books, Chan also illustrated the adventures of
Kull the Destroyer
).
The Storm solo pinup above marks the second time that Mr. Chan has drawn Ororo for my gallery. Previously, he paired the Wizardress of Weather with Beta Ray Bill in this Common Elements tableau entitled
"Stormbreakers."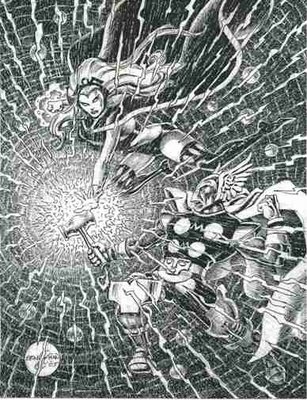 In addition to being a superlative artist, Ernie's also one heck of a nice guy. I always look forward to reconnecting with him at our local comics conventions.
Another Storm's a-brewing in seven days. Be here.
And that's your Comic Art Friday.
Labels: Comic Art Friday