Kindle me this, Batman
I'll admit to being something of a closet Luddite.
Now, I know that sounds peculiar, given my near-constant tethering to a computer and the online world beyond. But it's true.
For years, I avoided owning a cell phone, and now that I do carry one, it's a basic, stripped-down, pay-as-you-go model that doesn't have a camera, voice mail, or any of the usual bells and whistles. I only recently learned how to send text messages (thanks to my collegian daughter). My brief attempts to use a PDA to manage my daily routine devolved into miserable failure.
Today, however, I dragged myself — kicking and screaming — into the new millennium.
My
Amazon Kindle
arrived.
More precisely, my
Amazon Kindle 2
.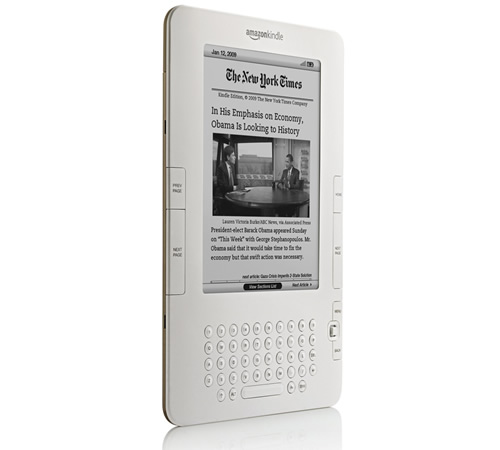 For the benefit of my fellow technoweenies out there, I speak here of an electronic book reader. Amazon's isn't the only such gizmo on the planet — Sony, among others, manufactures a similar device — but the Kindle represents the current state of the e-book reading art, with its relatively simple interface, sizable catalog (250,000 titles and growing), and instantaneous content downloads.
Amazon began shipping its freshly redesigned second-generation Kindle just last week. Our friendly neighborhood UPS driver delivered mine early this afternoon. (What can Brown do for you? Brown can bring you a Kindle, that's what.)
The Kindle arrives securely packed in a custom-fitted carton. I was surprised to discover when I opened the box that my Kindle was up and running, already knew my name, and displayed on its easy-to-read screen a personalized note to me from Amazon CEO Jeff Bezos. (Jeff: Have your people call my people. We'll do lunch.)
Purchasing my first handful of books proved insanely quick and effortless. Although it's possible to browse available titles directly from the Kindle, in giddy anticipation of my Kindle's advent I had already selected several books from Amazon's site via my PC. Each transaction required but a single click, and each book deposited itself into my device in the space of a few seconds. Amazon uses Sprint's 3G wireless network to deliver content, so it's possible to order up new reading matter lickety-split with just a fingertip. (And that's without a wireless subscription fee. Sweet.)
Kindle's 6" display employs a technology called E-Ink, which produces a remarkably paper-like, glare-free (there's no backlight, so external illumination is a must) reading surface. Text can be instantly resized into any of six preset increments, which means I'll be able to Kindle even when I misplace my pesky reading glasses. (Curse you, middle age.)
I've read some complaints online about Kindle 2's joystick navigation tool. (The original Kindle used a scrolling wheel.) So far, I'm finding that the joystick, microscopic though it is, works well, even under manipulation by my stubby fingers. The page-forward and page-back buttons are well-placed, and offer just enough resistance that I don't find myself flipping pages when I don't intend to. (Kindle 1's buttons were apparently both larger and looser, and users voiced frustration about losing place too easily.)
Kindle comes equipped with an onboard
Oxford American Dictionary
, enabling the reader to pull up the definition of any word in the text. Even those of us with voluminous vocabularies strike a stumper every now and then, so that's a cool feature.
I'm also impressed with the slick, streamlined battery-charging cord, which can be plugged into either a wall socket or a USB port. No massive, clunky adapter here. (I hate, hate, hate the ginormous transformer required by my Dell notebook.) I don't know yet how the Kindle's battery life holds up, but given that the electronic ink screen only uses power when the display changes, I'm guessing that the device will run for a good long while without a booster shot.
Amazon offers a book-like leather cover for the Kindle, but I opted for a zippered pouch manufactured by Belkin. Amazon's version actually locks the Kindle into its spine, which seems like a nice idea, but I'll feel better having something that encloses the device all around, given that I'll often be tossing it into a tote bag containing spiral notebooks, pens, and other scratch-inducing items. Plus, now that I've actually handled the Kindle, I'm surprised by its heft (10.2 ounces, according to Amazon). I'll definitely want to spend most of my reading time holding it without the added weight of a cover.
In case you're curious what I'll be reading on my Kindle over the next few weeks, my initial salvo of downloads includes:
New works by several of my favorite mystery scribes: Robert B. Parker, Robert Crais, and Harlan (Don't Call Me Robert) Coben.

Joe Torre's controversial memoir about his years managing the New York Yankees.

Rex Pickett's

Sideways

— love the movie, keep promising myself that I'd read the book.


Prisoner of Trebekistan

, by my fellow

Jeopardy!

alumnus Bob Harris.
For someone who spends as much time as I do sitting around in recording studios and hospital waiting rooms, the Kindle should be a godsend. The device will store approximately 1,500 books, so I can feel my carry bag getting lighter as I type. KJ will also be able to Kindle during her marathon infusion sessions at the oncology center.
Once I've had ample time to explore Kindle's functionality under real-world operating conditions, I'll let you know whether I still believe it's worth the investment.
Read on, Macduff.
Labels: Aimless Riffing, Cool Stuff, Good Reads