Just another brick in the wall
I can't recall whether I've mentioned this previously, so... stop me if you've heard this before.
A while back, artist
Bob Almond
asked me to serve as one of the moderators at
the Inkwell Awards forum
. The
Inkwell Awards
,
as faithful Comic Art Friday perusers know
, were instituted earlier this year as an annual acknowledgment of inkers, those often unsung heroes of the comics industry.
An e-mail from Bob the other day reminded me that it's been a while since we did one of our before-and-after reviews of one of Bob's inking commissions. So, let's get to it.
Here's a pencil drawing we've seen before. It's
Spider-Woman
— to be precise, it's Jessica Drew, the first and most familiar of
Marvel's trio of heroines known by that appellation
— as rendered by pinup specialist
Mitch Foust
.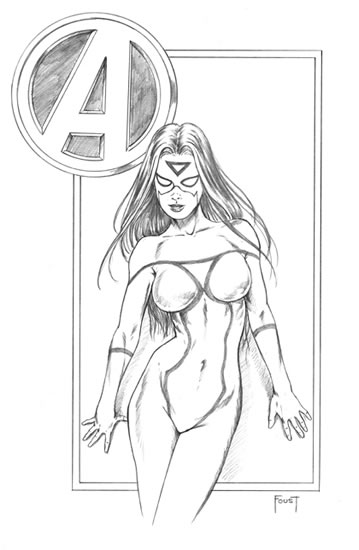 Lovely work, as Mitch's art always is. Lovely enough, in fact, that I knew that my friend Bob Almond could transform it into something truly spectacular.
And indeed, Bob did.
When I sent Mitch's pencil art to Bob, I asked him to simulate a brick wall within the blank geometric space Mitch included in the background. I had in mind
the iconic cover of

Spider-Woman

#1
, in which our heroine is caught in the beam of a searchlight against a building wall. (It's a concrete block wall in the original cover, not brick, but I thought the bricks would look hip, slick, and cool.) I had envisioned Bob either drawing in a brick pattern freehand, or replicating such a pattern from an existing drawing.
I was surprised when Bob returned the art that he had done neither of these. Indeed, I couldn't figure out exactly how he had created the brick effect. I could see that the brickwork wasn't hand-drawn — it's too smooth and regular for that to be true. Beyond that, though, I was clueless about the technique.
Thus, I did the logical thing, and asked Bob, "How'd you do that?" His reply:
I took a zip screen

[Zip-a-tone is a printed film comic artists use for special effects work; it was much more commonly used in the age before Photoshop]

that had that pattern, but smaller. I then scanned it and enlarged it and lightened it. I printed it up on a clear adhesive sheet and applied it, cutting out the excess parts. There was some minor lifting of the art in places from the adhesive, but I made sure to go back and redo sections.
They're clever people, those inkers.
Someone should give them awards
.
And that's your Comic Art Friday.
Labels: Comic Art Friday