Bettie turns the final Page
Back in March, we had the sad duty of reporting
the death of artist Dave Stevens, creator of The Rocketeer
.
In that post, we observed that Stevens's fame will be forever entwined with that of
1950s pinup queen Bettie Page
, whom Stevens used as the prototype for the Rocketeer's girlfriend Betty (note the different yet referential spelling). Stevens's work revived interest in the largely forgotten cult star, returning her to the spotlight after decades of anonymity.
Now, sadly, Stevens's muse has followed him into the next life.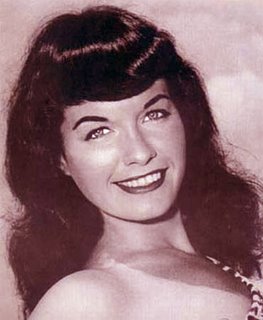 Bettie Page suffered a heart attack last week, leaving her comatose in a Los Angeles hospital. After having been kept on life support for several days, she passed away earlier today.
Ms. Page made her fame as one of the first models to transition from the underground pornography scene of the '50s into something approaching mainstream media. She was one of
Playboy
's earliest centerfolds, appearing in the January 1955 issue (one month before actress Jayne Mansfield).
Prior to her debut in Hugh Hefner's bunny rag, Bettie appeared in hundreds of ribald magazines, postcards, and non-explicit short films, many with sadomasochistic or bondage themes. She also posed for a series of pictures by Bunny Yeager, one of the first female pinup photographers. It was Yeager who brought Bettie to Hefner's attention. Thanks to her increased exposure (no pun intended), Bettie rapidly became the most popular pinup model in America.
In the late '50s, after her mentor Irving Klaw was prosecuted for distributing pornography through the mail, Bettie underwent a religious conversion and retired from modeling. She later attended several Bible colleges, and reportedly did some charitable and missionary work. She remained in relative seclusion until Dave Stevens, and other artists including Greg Theakston and Jim Silke, introduced the sunny-faced brunette to a new legion of fans. A 2005 film biography,
The Notorious Bettie Page
, featured Gretchen Mol in the title role.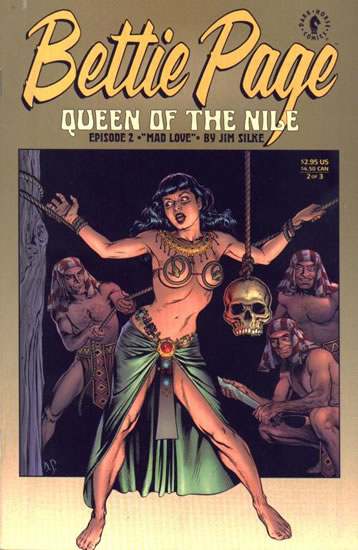 It's unfortunate that when many people think of Bettie Page, their minds will automatically snap to the word "pornography." Unlike the porn stars of today, Bettie never performed sexual acts of any kind in front of a camera — unless one considers nudity itself a sexual act. Ironically, I first became aware of Ms. Page's career when, as a broadcast journalism student at San Francisco State University in the early 1980s,
I wrote a research paper on the adult film industry
.
Despite this connection, I, like many of her modern-day fans, really developed an interest in Bettie only after her image began to appear in
Rocketeer
comic books. My comic art collection contains — at least, so far — only one Bettie-inspired drawing:
this Common Elements piece by Greg LaRocque, starring Phantom Lady and the Phantom Stranger
. You'll notice that Greg's depiction of Phantom Lady bears a striking resemblance to a certain dark-tressed pinup idol.
Bettie Page declined most requests from photographers in her waning years. She preferred to be remembered as she was in her heyday.
I don't think there's any question but that she will be.
Labels: Celebritiana, Dead People Got No Reason to Live, Sexiest People Alive